This is an incredible cake – not just because of how it tastes but carrot cake just screams special! I love to make carrot cake in the springtime for Easter or wintertime for the holidays. This recipe came together with much care and consideration for what I love most in a carrot cake – moisture, warmth, depth of flavor, and that tangy cream cheese frosting!

Comparing carrot cakes for the best combination
To get to today's carrot cake recipe, I tested several high-ranking recipes on Google that differed enough for me to compare common carrot cake techniques. Some of my findings were really insightful, so I'm sharing them here!
Brown sugar over granulated sugar. The majority of carrot cakes I came across online only use granulated sugar, and that's fine and dandy if you just want to sweeten your cake. But brown sugar adds moisture AND flavor! Since it doesn't impact the texture of the cake at all, brown sugar was the clear winner here.
Winner – Brown sugar + granulated sugar mix
Many spices over cinnamon-only.

Some of the simpler carrot cake recipes only included cinnamon for spices. That's cool if you're in a pinch, but the flavor suffers significantly. The cake that I landed on has a combination of cinnamon, ginger, nutmeg and cloves for a way more well-rounded and flavorful carrot cake.


Winner – Combination of cinnamon, ginger, nutmeg + cloves
Coconut oil over vegetable oil. Carrot cakes are an oil cake, normally using a neutral oil like vegetable, but I took it up one notch and used coconut oil instead! It added a subtle depth that I loved and did not make the cake taste coconutty at all (though I wouldn't mind that either). You can skip the coconut oil if you'd like, but it's another great swap for better flavor if you're into that.
Winner – Coconut oil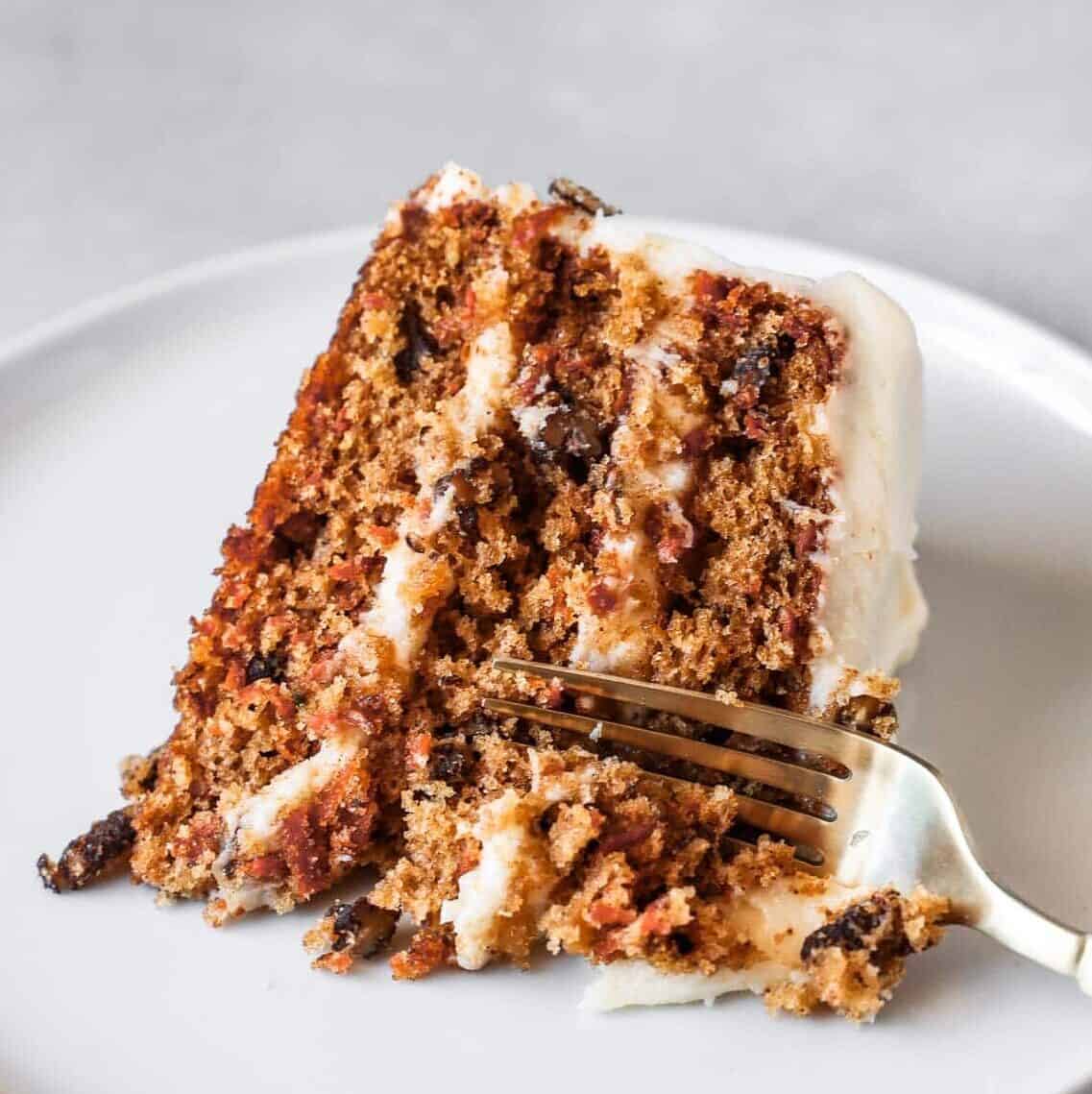 How to Make a Carrot Cake Flavorful and MOIST!
By now, you might notice that I try to bring the most flavor out of every ingredient to elevate the recipes just a smidge, and this cake is no exception! In addition to my insights from my research above, these instructions in the recipe are KEY for best results:
Shred carrots at home. Carrots have so much moisture in them! (Does anyone else love bottled carrot juice? just me?). If you buy them pre-shredded, you'll find they're so dry, they practically snap like chips. To ensure this carrot cake is fresh and moist, definitely shred the carrots at home.
Toast the pecans. It's a fact – toasted nuts taste a million times better than non-toasted! Do your pecans justice and toast them for amazing flavor and texture.
Brown the butter for the cream cheese frosting. Once you've had a brown butter frosting, you'll never go back. Or at least that's what happened for me when brown butter met cream cheese in this frosting! If you have the time, brown the butter before adding it to your frosting to add a layer of nutty depth that pairs so perfectly with the warm spices and pecans in the cake.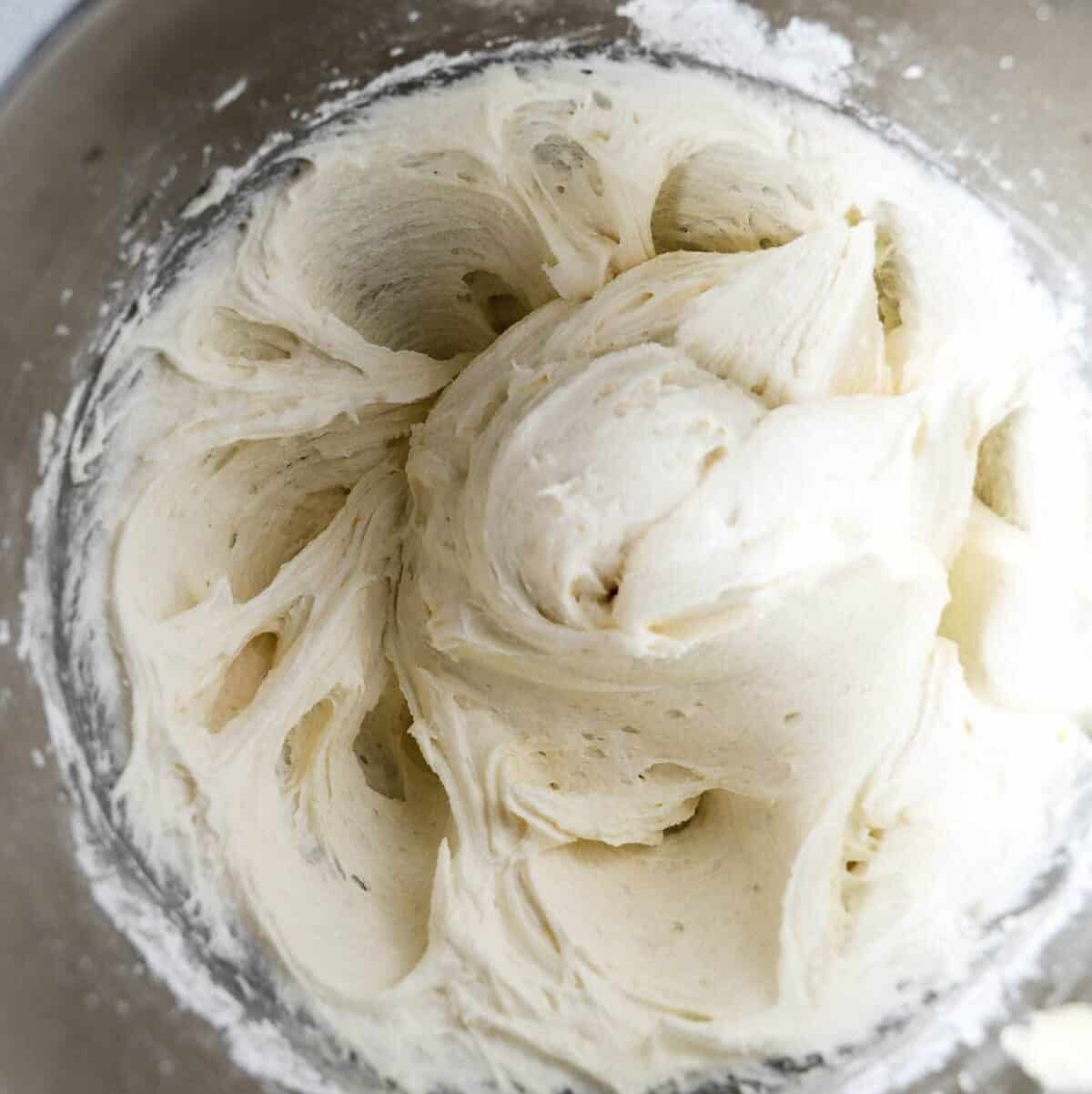 Final Tips for Success
Cut parchment circles to line baking pans perfectly.
Since this cake is so tender, it's essential to line the pans with parchment so that the cake comes out of the pan in one piece. To make perfectly round cakes with no crinkle marks, use scissors to cut the parchment into circles that fit the bottom of the pan!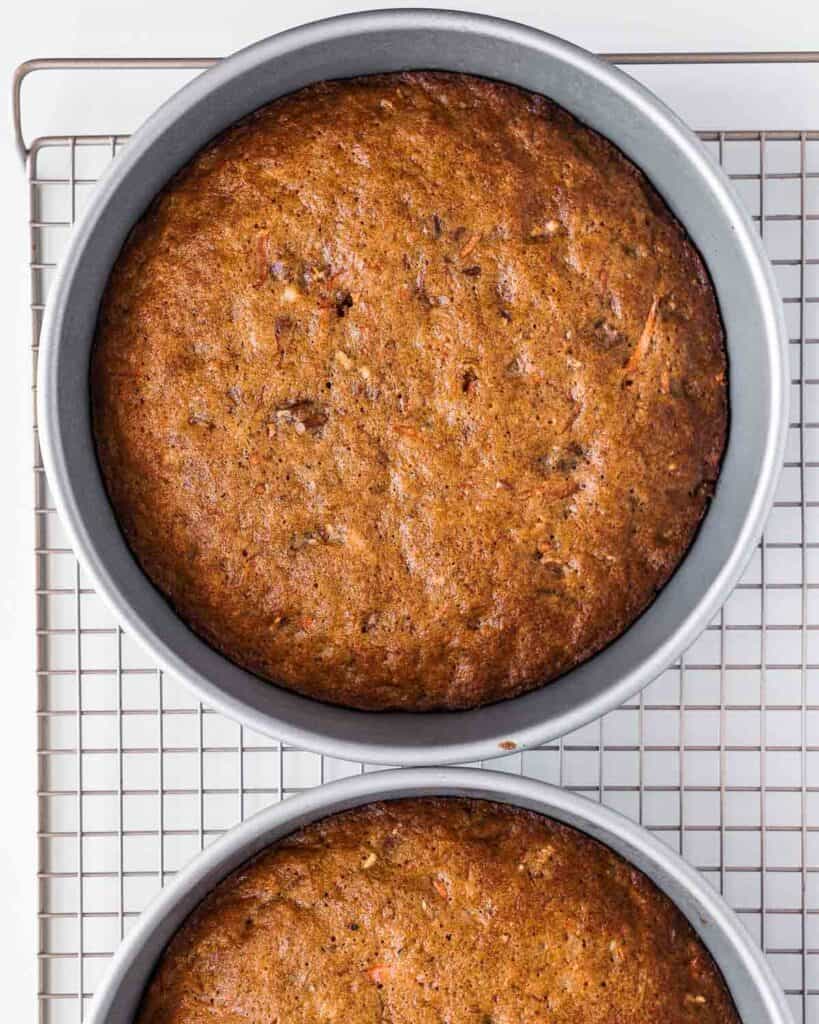 I do this by tearing off a piece of parchment that matches the width of the pan. Fold it into quarters. Find the corner of the triangle where the center of the paper will be once it's unfolded. Place this corner in the middle of the cake pan and hold it in place. Run your fingers on the parchment all the way to the edge of the pan, pressing down, and use your fingernails or a spoon to trace the rounded edge of the pan into the parchment. It will create a fold that you can use as a guide for cutting! Unfold the parchment and you'll find a perfectly round pan liner.
For best results, measure ingredients by weight
To ensure consistency and accuracy, the best way to make baking recipes is to measure ingredients using a digital scale! So that's why my baking recipes are written by weight whenever possible. If you absolutely need to convert to volume, I suggest sticking to the King Arthur weight chart. This is what I use universally to give you my volumetric estimates!
Convert into Carrot Cake Cupcakes!
If you are in the mood for cupcakes, you can definitely bake this recipe into cupcakes! The recipe yields about 30-32 cupcakes. Bake the cupcakes at 350ºF for 15-20 minutes or until a toothpick comes out of the center clean.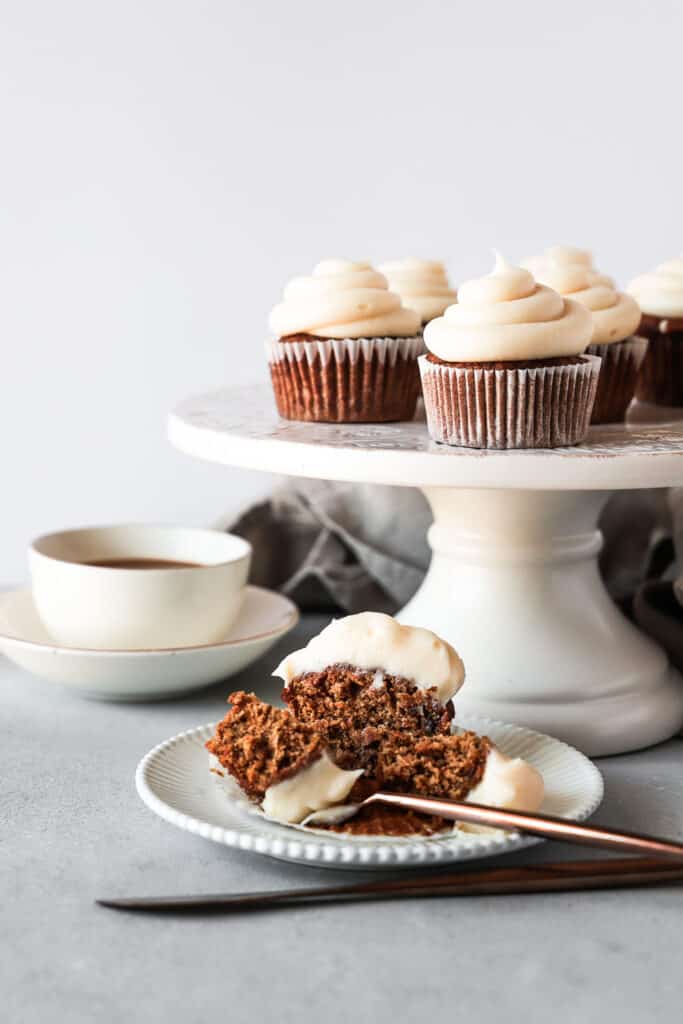 Print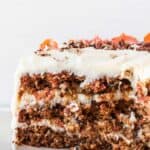 Moist Carrot Cake with Brown Butter Cream Cheese Frosting
Author:

Maria Do

Prep Time:

45 minutes

Cook Time:

25 minutes

Total Time:

1 hour 10 minutes

Yield:

12

slices

1

x

Category:

Dessert

Cuisine:

American
---
Description
Real carrots, cinnamon, nutmeg, ginger, and cloves bring this carrot cake to life! Coconut oil adds moisture and a depth that is irresistible, and it's paired with a brown butter cream cheese.
---
Carrot Cake
312 g

all-purpose flour (~

2 1/2 cups

)

2 tsp

baking powder

1 tsp

baking soda

1/2 tsp

salt (if using kosher, use

1 tsp

)

1 1/2 tsp

ground cinnamon

1 tsp

ground ginger

1/4 tsp

ground nutmeg

1/4 tsp

ground cloves

300 g

dark or light brown sugar (~

1 1/2 cup

packed) 

100 g

granulated sugar (~

1/2 cup

)

1 cup

melted coconut oil, room temperature (

240

ml)

4

large eggs (room temperature)

1 cup

unsweetened applesauce or crushed pineapple, room temperature (

240

ml) 

1 tsp

pure vanilla extract

260 g

carrots, finely shredded (~

2 cups

or 4 whole carrots, must shred at home for moisture)

2 cups

pecans, chopped and toasted (

228 g

) (half goes inside the cake, half for decoration)
Brown Butter Cream Cheese Frosting
2

blocks cream cheese, room temperature (

16 oz

or

500 g

)

1

stick unsalted butter (

1/2 cup

or

115 g

)

568 g

powdered sugar, unsifted (~

5 cups

)

1 tbsp

heavy cream or milk

1 1/2 tsp

pure vanilla extract
pinch of salt
---
Instructions
Toast pecans. Preheat oven to 400°F. Place pecans on a parchment-lined baking sheet in a single layer. Bake for 7-10 minutes until fragrant, before the pecans get dark. Allow pecans to cool before chopping. Set aside.
Brown the butter. Melt unsalted butter in a saucepan over medium heat until the butter gets a tint of brown, not too dark, about 10 minutes. It will smell nutty and delicious! Pour into a heat-safe bowl, and cover at room temp to solidify.
Shred carrots. Shred whole carrots using a box grater or food processor using the smaller, finer holes. Make sure to shred at home because pre-shredded carrots are generally dried out, and we need the moisture of the freshly shredded carrots for the cake.
Preheat oven + prep pans. Preheat the oven to 350°F. Grease three 9″ round cake pans and line with parchment paper. I like to cut circles of parchment to fit snug at the bottom. Grease again over the parchment and on the sides. (If you would like to make this recipe as cupcakes, a loaf, or a bundt, see the Notes section at the bottom.)
Mix dry + wet ingredients. In a large bowl, whisk together all-purpose flour, baking powder, baking soda, salt, cinnamon, ginger, nutmeg, and cloves. In a separate bowl, whisk together the melted coconut oil, brown sugar, granulated sugar, eggs, apple sauce, and vanilla. Pour wet ingredients into dry ingredients and stir until just combined, avoiding overmixing. Fold in shredded carrots and half the pecans until evenly combined. Pour cake batter into the 3 baking pans, ensuring they weigh approximately the same (I highly recommend a digital scale).
Bake. Bake the cakes for 20-24 minutes until a toothpick comes out clean. If the toothpick comes out wet, continue baking until cooked thoroughly, but be careful of overbaking. When done, invert the cakes out of their pans onto a cooling rack. Peel off the parchment paper to allow steam to escape faster. Cool the cakes completely before frosting. I like to make the cakes the day before and keep them in the fridge overnight so that it's easier to frost!
Make the frosting. Using a hand mixer or stand mixer with paddle attachment, beat together the solidified brown butter and cream cheese until smooth but not whipped. Add powdered sugar, vanilla, milk, and salt. Beat on low speed until the powdered sugar is incorporated, then increase speed to medium-high until creamy but not whipped, ~1-2 minutes. Add more powdered sugar if frosting is too thin, more milk if too thick, or another pinch of salt if too sweet. Frosting should be smooth but not runny.
Assemble and frost. Using a long serrated knife, level off the tops of the cakes to create a flat surface. Add a spoonful of frosting to the center of your cake stand or serving plate to keep the cake in place. Place the first layer on the stand and add an even layer of frosting on top. Spread to cover the entire top surface. Repeat with the second and third layer. Spread remaining frosting over the sides of the cake. Decorate the cake with the rest of the toasted pecans. Refrigerate cake for at least 15-20 minutes to set before cutting. Store in a fridge to enjoy for up to 5 days. Don't leave it out overnight since the frosting has cream cheese in it.
Optional: I added candied dried carrots to the top as well! To make them, thinly slice carrots on a mandolin, coat with simple syrup (1/2 cup sugar, 1/2 cup water), bake carrots in a single layer at 400°F for 15-20 until they're curling at the edges. While they're cooling but still wet, generously sprinkle granulated sugar to coat.
---
Notes
Make-Ahead Instructions. This cake continues to build flavor with time, so baking the cakes a day in advance is highly recommended!
Nuts. Feel free to swap out pecans for walnuts or leave them out completely. No revisions are needed in the recipe. 
Other Add-Ins. If you're a fan of raisins or coconut flakes in your carrot cake, you can add them into this cake but reduce the pecans to 1/2 cup. Then add 1 cup of raisins or coconut or a mix of both. Don't exceed 1 1/2 cups of add-ins or the cake will be too heavy. 
Applesauce. Unsweetened or sweetened applesauce works just fine here with unnoticeable change in taste. If you love pineapple in your carrot cake, switch the applesauce for the same amount in crushed pineapple (with juices). Full-fat yogurt, buttermilk, or mashed bananas also work as great substitutes. 
Oil. Make sure your melted coconut oil is relatively cool before adding it to the batter. If not using coconut oil, feel free to swap for any neutral tasting oil like vegetable, canola, or avocado. 
9 x 13″ Sheet Cake – Carrot Sheet Cake. This batter can be baked in a 9 x 13″ pan for a super simple sheet cake! Use the toothpick test to gauge how long to bake it for since it will take longer than 25 minutes. 
Carrot Bundt Cake. You can also bake this recipe in a bundt pan! Make sure to grease the pan really well since you can't lay parchment on it. Bake at 350°F for approximately 50 minutes or more until a toothpick comes out clean. 
Carrot Cake Cupcakes. If you prefer the size and ease of cupcakes, this recipe can be baked into 3 dozen cupcakes Fill the cupcake liners 2/3 full and bake at 350°F for 19-22 minutes until a toothpick comes out clean. You can also halve this recipe if you want fewer cupcakes.
Carrot Loaf Cake. Recipe also works for a cakey loaf. Divide the batter evenly into 2 loaf pans, and bake at 350°F until a toothpick comes out clean, approximately 25-30 minutes. 
Keywords: carrot cake, easter recipes, spring recipes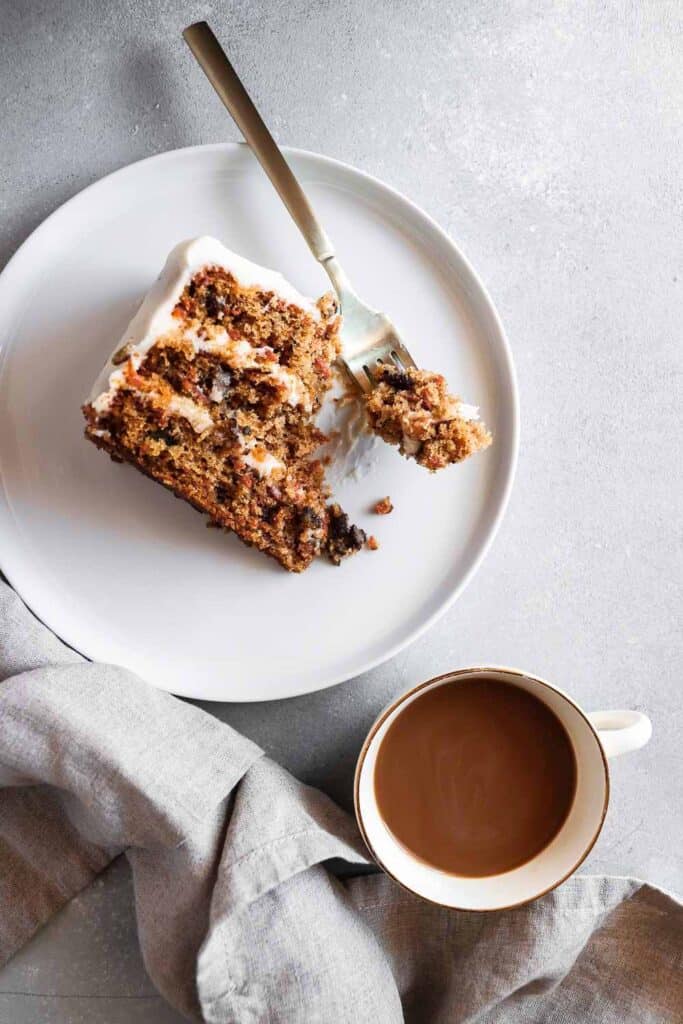 For more baking recipes, check out the breads or desserts categories for other recipes!