While the rest of the world is coming up with its new year resolutions, my home state Louisiana is getting ready for its biggest party season of the year, and a delicious one at that. Mardi Gras is an amazing time of year in Louisiana for many reasons but particularly for the infamous Mardi Gras King Cake that graces our grocery stores and bakeries every January.
E very Louisianan has their favorite King Cake, and they feel strongly about it – I am one of those die-hards, swearing by my favorite king cake until I'm blue in the face. My favorite king cake is from Dong Phuong (DP) in New Orleans East, a Vietnamese-French bakery that I grew up across the street from for most of my childhood.
Their king cakes gained cult popularity in 2018 and for good reason! It's incredibly soft on the inside, not a dry bite to be found, and smeared with the most luxurious icing in all the land. They are untraditional in that they are not braided and have no ring in the middle, which I think lends to their super soft texture.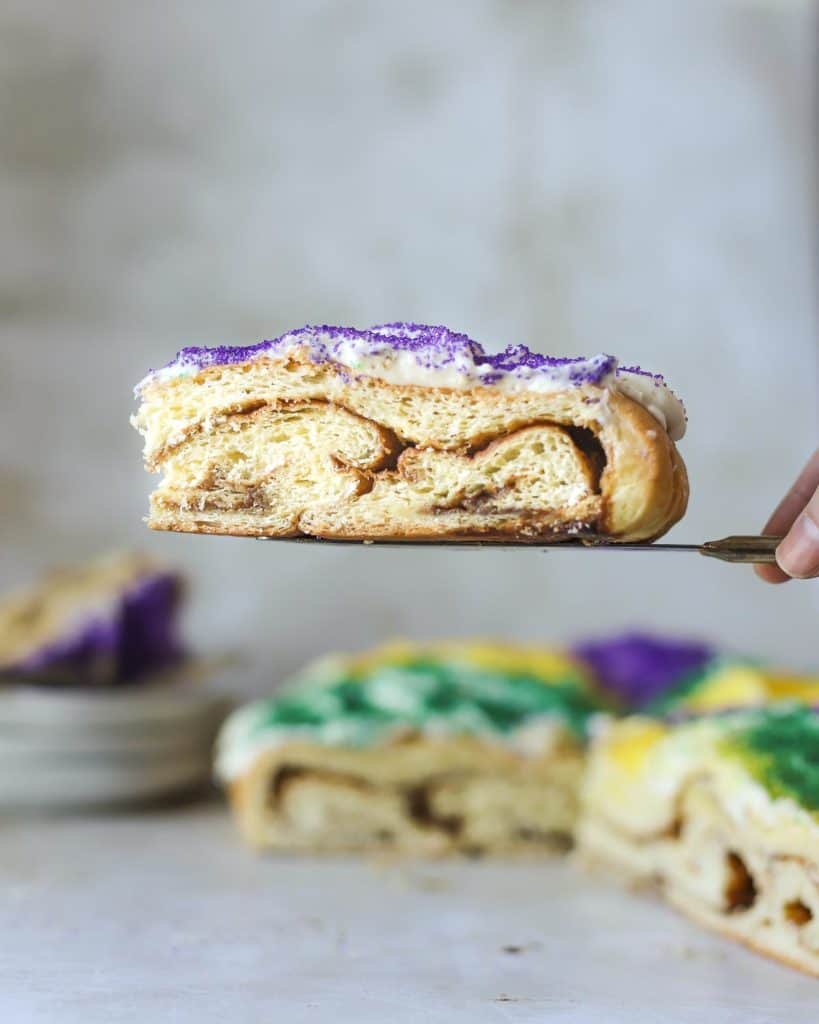 What is king cake?
The version of king cakes we know today is an oval-shaped brioche cake, akin to the taste and texture of cinnamon rolls! They're decked out with green, gold, and purple sprinkles on top. The first king cakes were made in Europe to celebrate the Catholic Epiphany, and the French brought it over to Louisiana in the 1870s.
Today, king cake is synonymous with the celebration of Carnival season in New Orleans, leading up to Fat Tuesday, better known as Mardi Gras.
What is king cake made of?
King cake is essentially a giant cinnamon roll made with an enriched yeasted dough, brown sugar cinnamon filling, then topped with icing.
Many king cake adaptations will include a filling such as pecan praline or cream cheese. The icing is sometimes swapped for a cream cheese frosting as well.
King Cake vs. Cinnamon Rolls
Besides shape and decoration, king cake dough is the same as cinnamon roll dough. Both doughs are enriched and require the same proofing methods.
Unlike cinnamon rolls which are cut cross-wise, however, king cake is kept whole and baked in an elongated oval shape. Many king cakes are braided into an oval shape for visual appeal.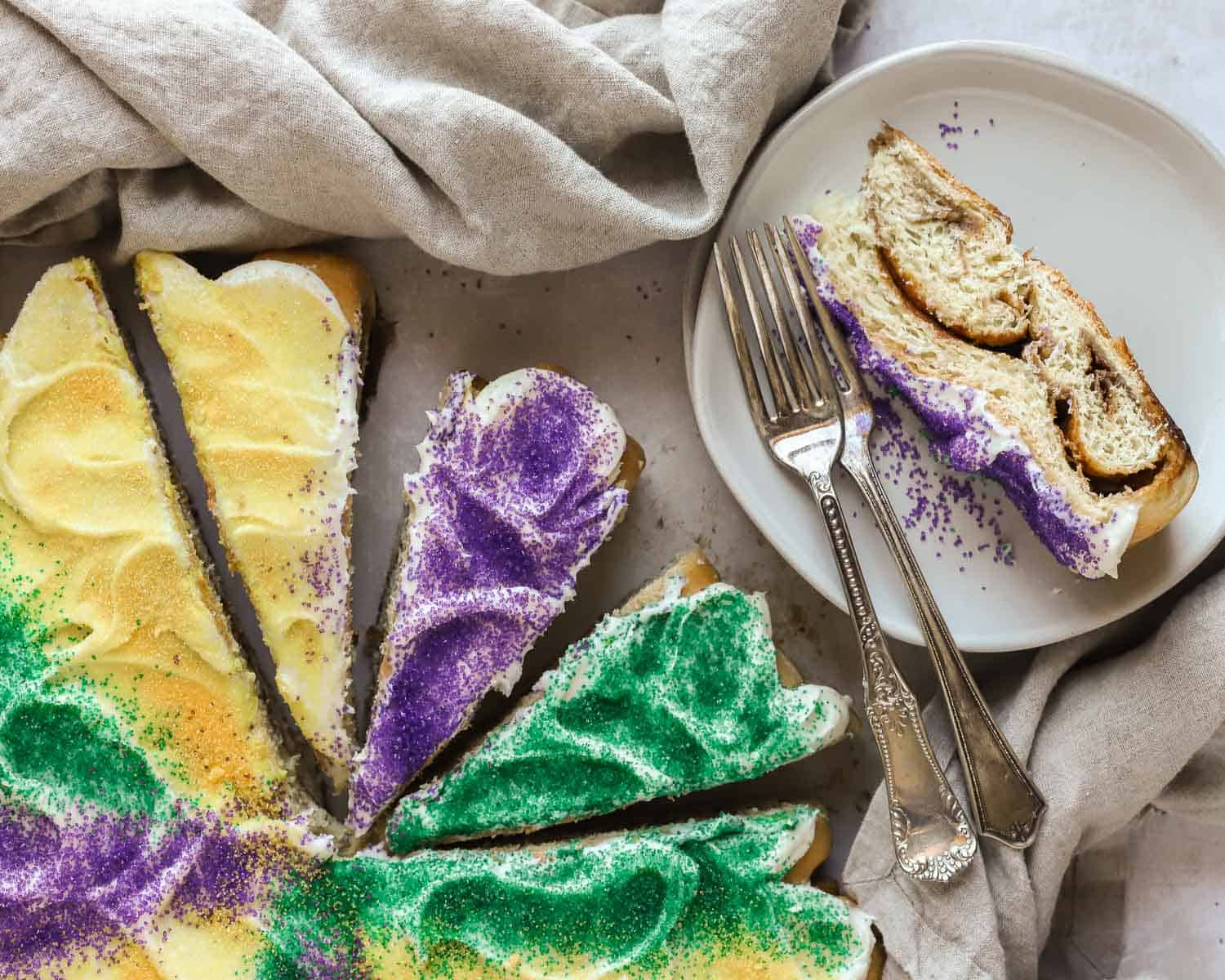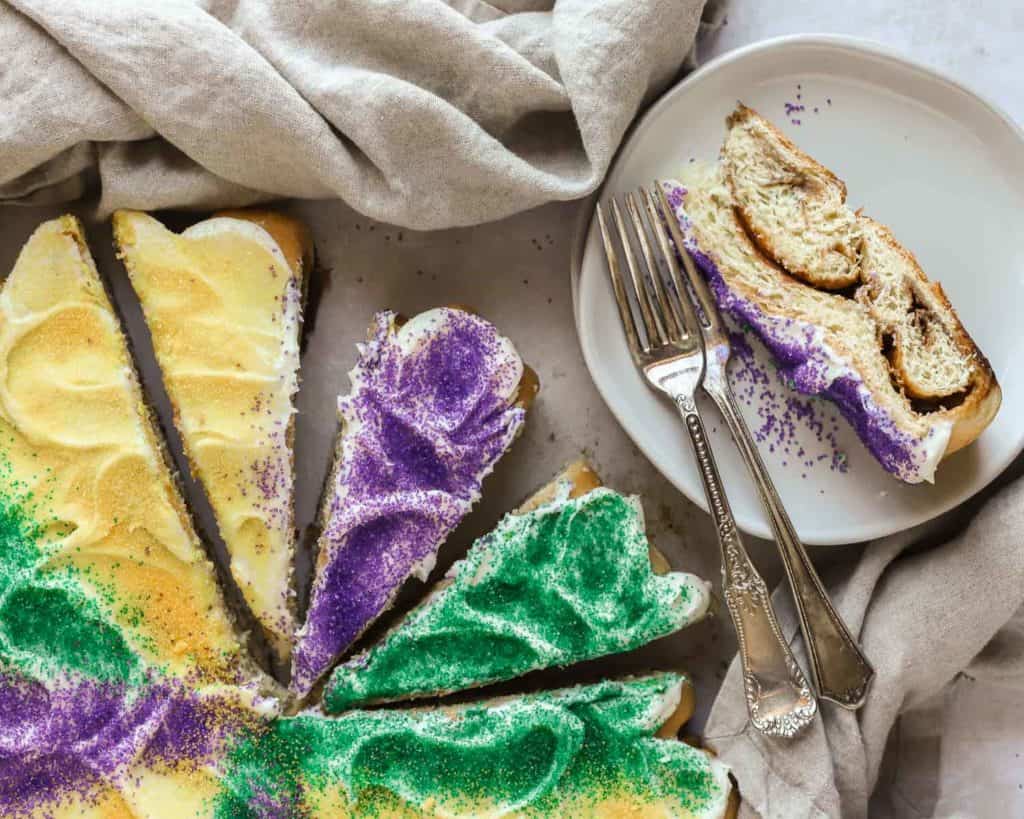 Dong Phuong King Cake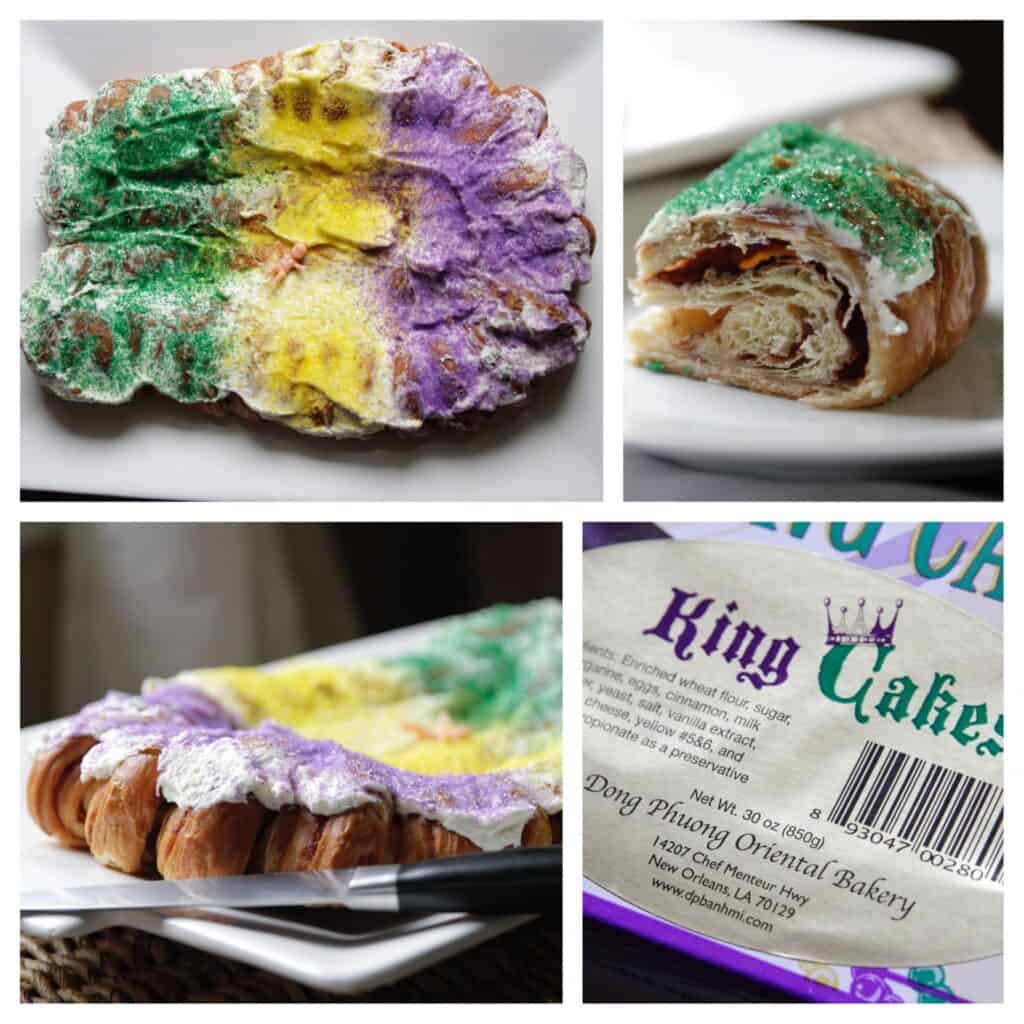 How is this king cake different?
When developing this DP-style recipe, I prioritized two things: (1) texture and (2) flavor. Because of that, this Mardi Gras king cake is not made like your average one, but it will be the softest and most flavorful king cake you'll ever make at home. Here's what's different about this king cake:
No ring in the middle: less surface area in the center means more soft and fluffy dough on the inside!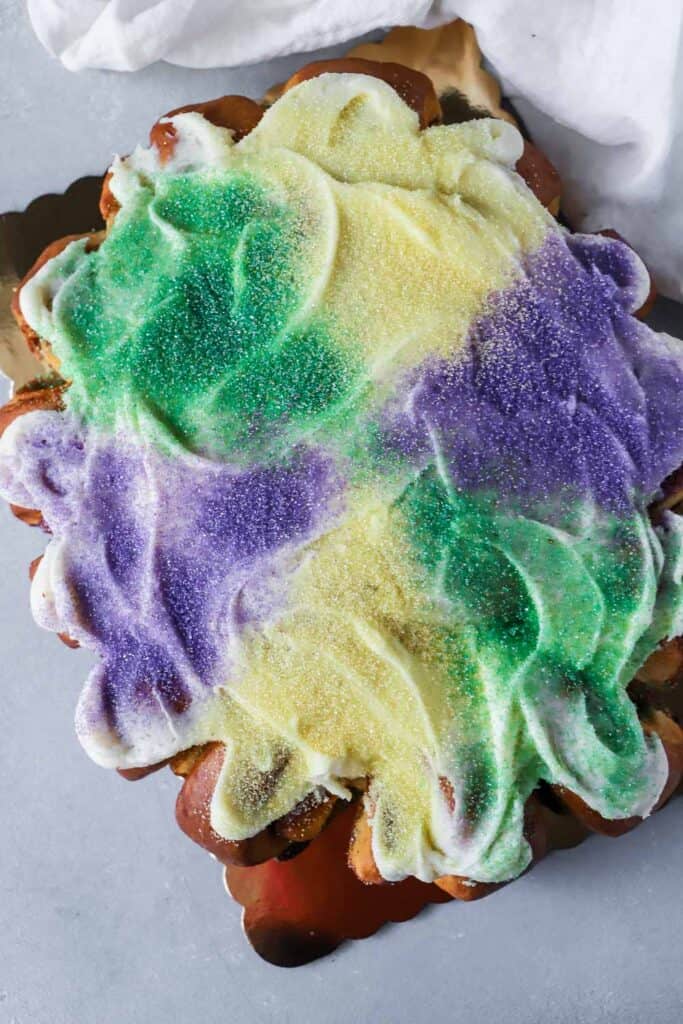 No braiding: instead of braiding, I cut slits around the outer edge to encourage even baking while preserving the soft center.
No kneading, just folding: Instead of kneading dough on a work surface, this recipe uses the strength folding method in a bowl for a simpler and cleaner way to build up gluten.

Heavy cream brushed on final cake: to keep the cake moist and from drying out, this recipe includes a healthy brushing of heavy cream on all crevices of the baked cake.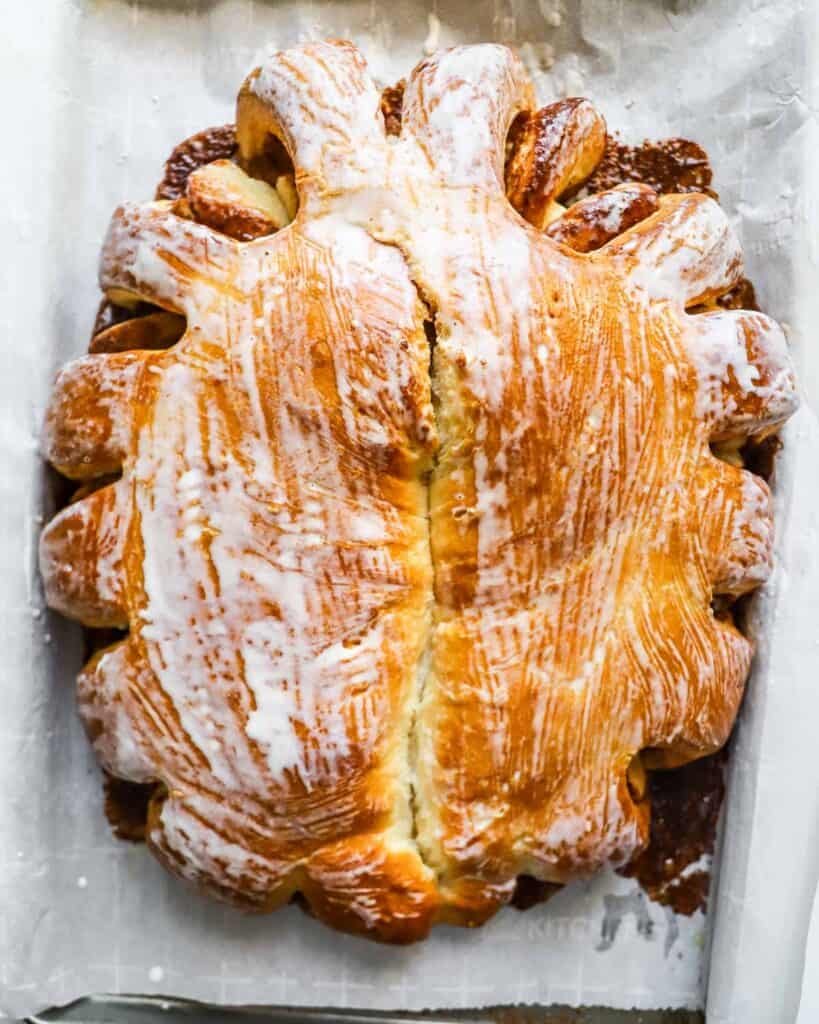 Brown Butter Cream Cheese icing: this is the icing that's on my Overnight Cinnamon Rolls, and it's simply the best icing I've ever had. There's a deep nutty flavor from the browned butter and the sugary sweetness is balanced with tangy cream cheese. It goes beautifully with this king cake! If you make anything from this recipe, MAKE THIS ICING!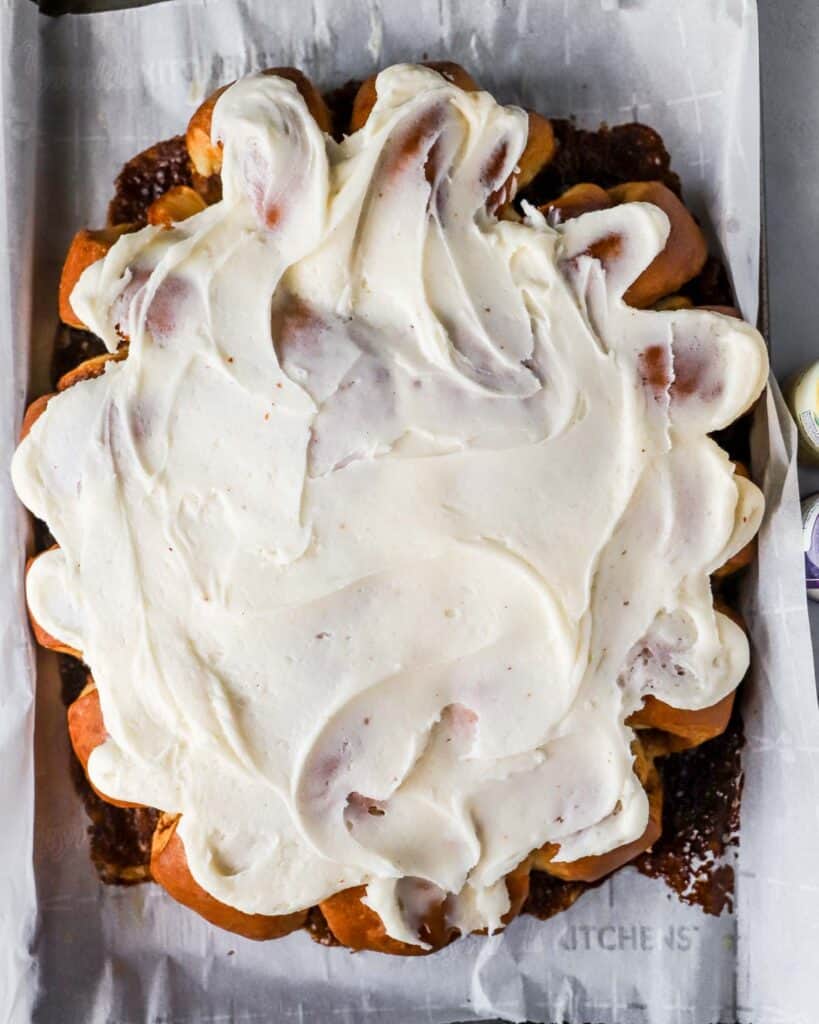 Tips for making the best king cake
Don't overheat the milk. Your milk should be between 100º F -110º F, not any hotter or it will kill the yeast. I use a thermometer to test this, but if you don't have one, it should feel similar to bath water.
Ensure your yeast foams before proceeding. To make sure your yeast hasn't died, wait for yeast to get foamy in the warm milk and honey before proceeding. If it does not get foamy, the yeast is likely dead, so start over with fresh yeast. It's much cheaper now to toss it out than to toss out a fully made dough.
Use softened room temperature butter in dough. Butter gets mixed into the dough best when it's softened and at room temperature, not melted.
Roll out the dough when cold. This dough is extra sticky when at room temp, so rolling out the dough cold makes it much easier to handle, fill and roll.
Example Schedule
This recipe requires that the dough rest in the fridge overnight or up to three days, so plan accordingly! I love overnight doughs because you can break up the time in the kitchen. This is the schedule I normally use when I make the cake:
The night before: mix dough at 6pm, finish all folds by 8pm, and refrigerate overnight.
The day of: shape the dough at 9am, proof til 10:30am, baked cake by 11am.
Print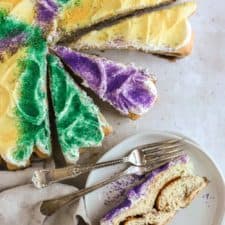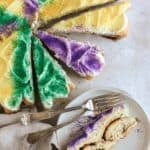 Soft and Moist Mardi Gras King Cake
Author:

Maria Do

Prep Time:

3 hours

Resting Time:

12-72 hours

Cook Time:

35 minutes

Total Time:

3 hours 35 minutes

Yield:

1

large king cake, 14-16 slices

1

x

Category:

Dessert

Cuisine:

American, French, New Orleans

Diet:

Vegetarian
---
Description
This soft, moist, and fluffy king cake recipe is inspired by my hometown bakery in New Orleans East, Dong Phuong Bakery. The brioche, ring-less king cake is a unique take on the traditional and is absolutely delicious! Recipe makes a large king cake, great for groups. See notes for making a smaller size.
Example Overnight Schedule: Mix dough at 6pm the night before, roll out and shape at 9am, bake at 10:30am, finished king cake by 11am.
---
Dough
3/4

cup

warm whole milk (100-110 Fº)

1/4

cup

honey

2 1/4 tsp

instant yeast (

7 g

)

4

large eggs, room temp

4 1/2

cups

all-purpose flour (568 g)

2 tsp

kosher salt

10 tbsp

unsalted butter, softened to room temp, cut into 1-inch pieces (

1 1/4

sticks)
Cinnamon Filling
1

cup

dark or light brown sugar (110 g)

1 tbsp

ground cinnamon
pinch of kosher salt

2 tbsp

salted butter, melted

2 tbsp

heavy cream
Icing & Sprinkles
6 tbsp

unsalted butter (

3/4

stick)

4

oz

cream cheese, softened to room temp (1/2 block)

2

cups

confectioner's sugar, packed

2 1/2 tsp

whole milk

1/4

cup

heavy cream, for brushing on top after baking
sanding sugar or sprinkles (purple, green, gold)
---
Instructions
The Day Before – Mix the dough to rest overnight
In a large glass measuring cup or bowl, pour in 3/4 cup milk and microwave or heat to 100ª F – 110ªF (not any hotter or the yeast will die). To the same cup, add 1/4 cup honey and 2 1/4 tsp instant yeast, then whisk to combine. Let the mixture stand for 10 minutes until foamy. If it doesn't foam, your yeast may have died, so start over with fresh yeast! When the mixture is foamy, add 4 room temp eggs then whisk to combine.

In the bowl of a stand mixer with the paddle attachment, add 4 1/2 cups flour and 2 tsp kosher salt. Stir on low to combine. With the mixer on low speed, pour the milk/egg mixture into the flour and stir on low until combined. Add 10 tbsp softened butter one piece at a time. When the butter is all in, increase the speed to medium, and beat for 1 minute until the butter is fully incorporated and the dough is stringy, very stick and wet. Use a spatula to spoon the sticky dough into a large greased bowl. Cover bowl with plastic wrap and allow the dough to rest and rise for 30 minutes.
 
After 30 minutes, apply the first fold by placing your fingers under one edge of the proofed dough, pulling the dough up, and folding it back over itself. Repeat this motion around the entire perimeter of the dough, turning the bowl as you go, until it's completely folded over itself, about 6 times. Cover the bowl again and rise for another 30 minutes. Repeat this folding step 3 more times, waiting 30 minutes in between each fold, for a total of 2 hours and 4 folds. Cover the bowl, and refrigerate overnight or up to 72 hours. This resting time allows your dough to develop serious flavor!
Use the downtime in between folds to brown the butter for the icing since it will need to solidify again. Melt 6 tbsp unsalted butter in a saucepan over medium heat until the butter gets a tint of brown, not too dark, about 10 minutes. It will smell nutty and delicious! Pour into a heat-safe bowl, and cover at room temp to solidify overnight on the counter.

The Day Of – Shape & Bake the King Cake
Line a 18″ x 13″ baking sheet with parchment paper for easy cleanup. Set aside. In a small bowl, mix 1 cup brown sugar, 1 tbsp cinnamon, and a pinch of kosher salt. Set aside.
Retrieve cold dough from the fridge. Punch down the cold dough to knock out the air and knead about 10 times just to wake up the yeast. On a floured work surface, roll out the dough into a 14-inch by 18-inch wide rectangle. Use a fork to poke holes every 2 inches or so throughout, then brush 2 tbsp heavy cream and 2 tbsp melted salted butter on top. Sprinkle cinnamon mixture evenly over the top, and press it in lightly with your hands to adhere to the butter and cream.
 
To roll, start with one of the long edges, and roll into a tight log and stop when you've reached the middle of the rectangle. Do the same on the other side to create two logs in a scroll shape.

Carefully transfer the dough onto your lined baking sheet, scroll side down. You can use a bench scraper or small cutting board to help with the transfer. Form the dough into a U-shape. If you'd like it to be a full oval, pinch the two ends together. Carefully stretch the thicker end of the U out so that it's generally level with the other side. It's okay if it's not perfect; we'll cover the cake in icing!
 
Use a knife to cut 1.5-inch slits about 1.5 inches apart around the entire perimeter of the cake. Then cut a slit in the thickest part of the cake in the center (see photo). Cover loosely with plastic wrap and let the dough rise one last time in a warm spot until fully proofed, 1 to 1 1/2 hours. While the cake is proofing, mix the icing.

In the bowl of a stand mixer with paddle attachment, add the solidified browned butter you made the night before and room temp cream cheese. Beat until combined. Add 2 cups confectioner's sugar and 2 1/2 tsp whole milk. Mix just until combined, we don't want this to be super whipped. Add more powdered sugar or milk as needed for desired consistency. This icing is more like frosting, so the consistency will resemble a buttercream. Set aside. Preheat oven to 350º F (180º C).

Bake the proofed king cake for 32-35 minutes, rotating the pan halfway through until light brown on top. When the cake is done and still warm, brush on 1/4 cup of heavy cream all over the cake. This keeps it soft and prevents the crust from hardening too much. (It feels wrong, but do it anyway!) It should absorb fully after 15 mins.

When the cake is cooled completely, spread on the brown butter icing. Decorate with the purple, green, and gold sprinkles. Slice & enjoy!
 
Notes
Small king cake: This recipe can be halved to make a smaller king cake. Halve all of the ingredients for the dough and icing but keep proofing and overnight resting times the same. When rolling the dough out, roll in the exact same 14″x18″ rectangle as you would the large one (this one will just be thinner), and shape the cake in the same fashion. Bake for 20-25 minutes at 350º F until light golden brown, not too dark or it will be dry. 
Freezing king cake: I've baked and frozen this king cake many times to have on-hand in case of a gathering. Bake the king cake and cool completely. Wrap tightly in plastic wrap and freeze up to 1 month. To defrost, set at room temperature for 3 to 4 hours until soft or overnight in the fridge. Frosting can be made up to 3 days before applying to the cake. Keep refrigerated in the meantime. 
Keywords: dong phuong, king cake, New Orleans king cake, traditional king cake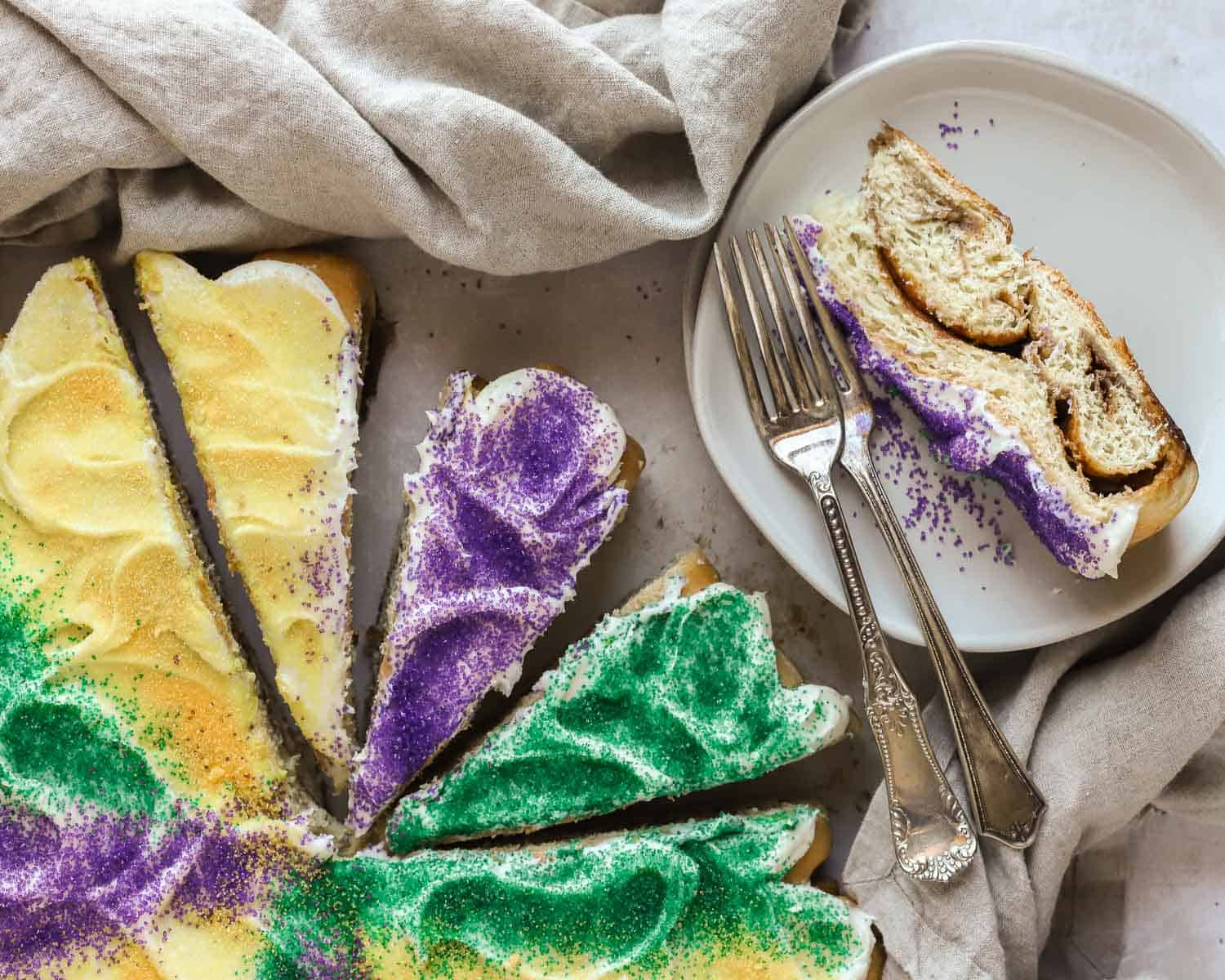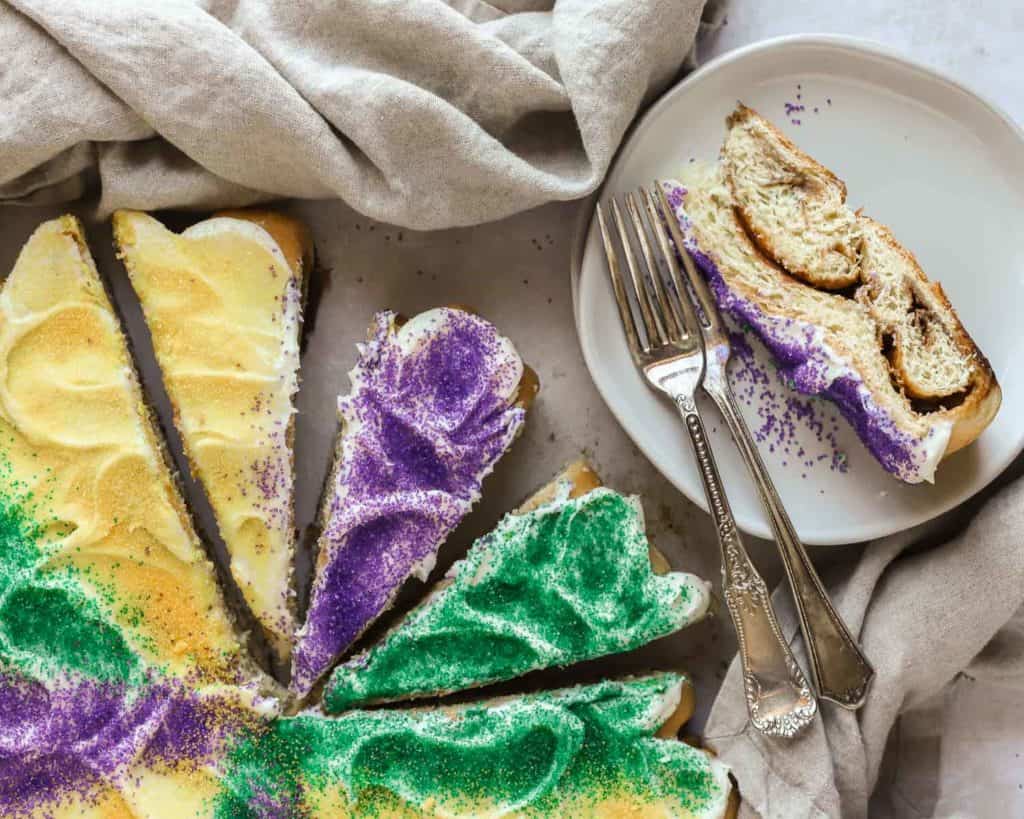 FAQs – Equipment
What if I don't have a stand mixer? You can make this recipe without a stand mixer for sure, but it will take time to mix the butter into the dough by hand. Worth it though!
Can I use a hand mixer instead? No, hand mixers won't be able to handle the dough. Just use those arm muscles and knead! For the icing, a hand mixer is totally fine.
FAQs – the dough
Why do we knead cold dough? With enriched doughs, the butter and cream make it harder for yeast to bloom. So, giving the dough a quick knead after it's been in the fridge overnight helps waken the yeast and gives it a jump start.
Is the dough supposed to be sticky? Yep! The stickiness gives the cake its soft, fluffy, and moist texture. I suggest rolling out the dough when it is chilled because it is much, much easier to handle.
What does folding do? Folding builds gluten (think of it as lazy kneading). It helps build the dough's structure, making it easier to handle and gives the cake its pull-apart, stringy texture.
FAQs – Ingredients
Can I add other fillings inside the cake? Yes! But pay extra attention to the rolling process, making sure you have a tight roll since the cinnamon filling is on the dry side and more toppings will not adhere as well. You'll want to make sure your king cake is still tight and compacted.
What if I have active dry yeast, not instant? Active dry yeast will work in this recipe, too! Let the active dry yeast rest in the warm milk and honey for 10-15 minutes until foamy, before the eggs are added like the recipe states.

A while ago, I bought a 1 lb bag of yeast and thought it was excessive, but I just hated buying the yeast packets one roll at a time. So I've just kept that bag of yeast in my freezer. When COVID struck in 2020 and yeast started selling out, I counted my baking blessings. Haha. If you bake at all, I would recommend purchasing in bulk and keeping it in your freezer. It's perfectly fine in there and the $9 price tag will pay off in 5 bakes or so. Totally worth it. You can purchase the yeast brand I use, Red Star, on Amazon!
Can you use Gluten-Free flour with yeast? I haven't tested this recipe for gluten-free alternatives, but if I did, I'd suggest going to King Arthur Baking's Gluten-Free Yeast Baking for tips.
For High Altitude Bakers
I developed this recipe in my previous home in Louisiana and have made it many times in high altitudes in Colorado. I don't change ingredient ratios to keep things simple, but I do notice the dough proofs faster which is a bonus! The lower air pressure definitely contributes to the quicker rise.
If you have altered recipes for high altitudes before, I would recommend checking out King Arthur's High Altitude Baking post to plan for any minor adjustments.
For more cake and bread recipes like this, check out the bread and dessert categories on my site!

Loved this recipe? Leave me a ⭐️ rating in the comments below!
Your comments and ratings help so much, so thank you in advance for letting me know what you think.