This light, fluffy and tangy lemon chantilly cake gets its flavor from REAL lemon juice and zest! But it's the frosting that sets this cake apart. The cake is covered in the smoothest whipped mascarpone chantilly cream that brings an extra vibrancy to this delicious lemon cake.
You might know of chantilly cream from Whole Foods' infamous Berry Chantilly Cake which is my favorite store-bought cake for its light freshness! That cake is the inspiration behind today's recipe.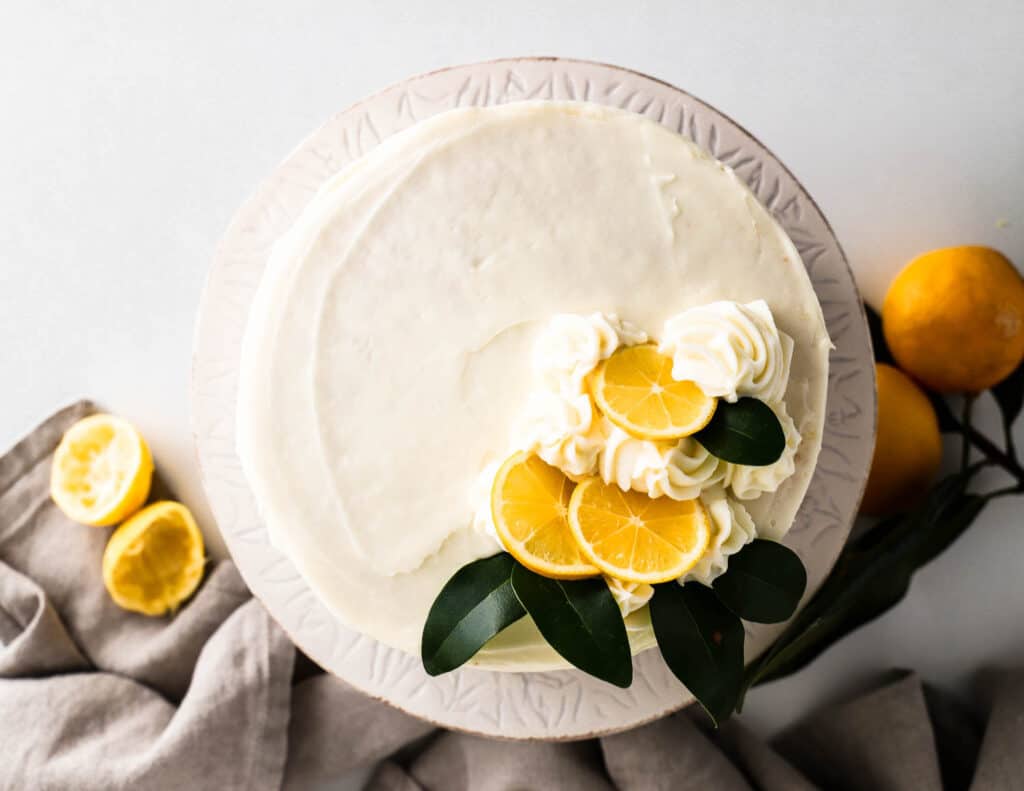 What is chantilly cake made of?
In the South, chantilly cake is made of delicate white cakes layered with fresh berries and a light frosting consisting of fresh cream and mascarpone.
However, instead of berries, I developed this recipe to feature lemons because of their refreshing essence! I tested several versions of this lemon chantilly cake and swapped out some core ingredients to get to the final product. The star ingredients of this lemon chantilly cake are as follows:
Neutral Oil: adds moisture and even distribution of fat
Butter: adds flavor and richness
Sour Cream: adds moisture and richness
Lemon Zest + Juice: adds natural flavor and vibrancy
Tips for how to make the best chantilly cake
Additionally, there are a few process details that you should know for best results:
All ingredients should be at room temp. When all your ingredients are at room temp, you give them a better chance of combining with the other ingredients well. If you have to quickly bring your items to room temp, here are some tricks I use! Add cold eggs to a bowl of hot water. Put sour cream and milk in bags and submerge in warm water. Cut cold butter into 1-inch chunks and microwave for 15 seconds.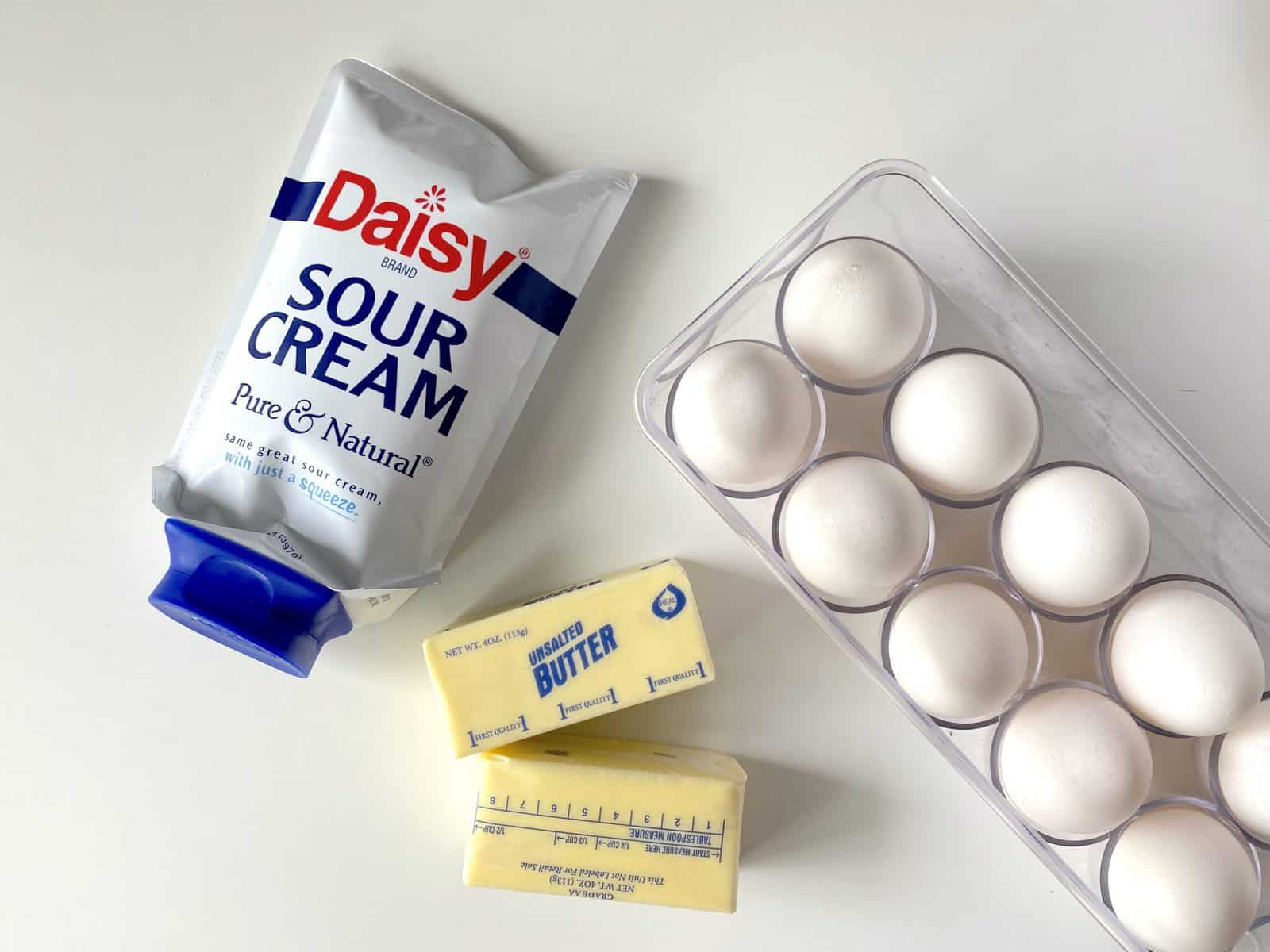 Beat the vegetable oil + butter like crazy. The oil in this recipe adds more moisture, and unlike most cakes, it's paired with butter to make sure the cake doesn't get too dense. To help it even further, the recipe calls for beating the oil + butter on high until it's pale white, which normally takes a whole 4-5 minutes.
Don't overmix. As with any other light cake, there's a danger in overmixing once the flour is put in. That's why the recipe encourages that you mix by hand in the final stage!
Stabilize chantilly cream with pudding mix. Since the chantilly cream consists of whipped cream, we want to add pudding mix to stabilize the whip so that it can hold up for 1-2 days without giving out on you. This recipe could technically work without it, but you will have to work with a super cold cake and be quick with frosting it. For insurance, I would definitely not skip out on the pudding mix!
Cut parchment circles to line baking pans perfectly. Since this cake is so tender, it's essential to line the pans with parchment so that the cake comes out of the pan in one piece. To make perfectly round cakes with no crinkle marks, use scissors to cut the parchment into circles that fit the bottom of the pan!
Measure ingredients by weight. To ensure consistency and accuracy, measure ingredients using a digital scale! That's why my baking recipes are written by weight whenever possible. If you absolutely need to convert to volume, I suggest sticking to the King Arthur weight chart. This is what I use universally to convert to volumetric estimates!
Print
Lemon Chantilly Cream Cake
Author:

Maria Do

Prep Time:

1 hour

Cook Time:

30 minutes

Total Time:

2 hours 30 minutes

Yield:

12

slices

1

x

Category:

Dessert

Cuisine:

American
---
Description
This moist and creamy lemon chantilly cake is flavored entirely with fresh lemon juice and zest! It's paired with a light and velvety chantilly cream that balances out the tangy lemon flavor.
---
Lemon Cake
330

g

all-purpose flour, sifted (2 3/4 cups)

133

g

vegetable oil (2/3 cup)

76

g

unsalted butter, room temp (1/3 cup or 5 tbsp + 1 tsp)

300

g

granulated sugar (1 1/2 cups)

1 1/2 tsp

baking powder

1/2 tsp

baking soda

1 tsp

salt

3

large eggs, room temp

284

g

sour cream, room temp (1 1/4 cups)

75

g

whole milk, room temp (1/3 cup)

1 tsp

pure vanilla extract

1 tbsp

lemon zest

1 1/2 tbsp

lemon juice
lemon slices for decoration (optional)
Chantilly Cream
16

oz

cream cheese, room temp (2 blocks)

16

oz

mascarpone cheese, room temp

8

oz

unsalted butter (1 stick)

2 3/4

cups

confectioner's sugar (22 oz)

1 tsp

pure vanilla extract

2 tbsp

lemon juice

1 tbsp

lemon zest

1

cup

heavy whipping cream (8 fl oz)

2 tsp

vanilla pudding mix
Simple Syrup
1/2

cup

granulated sugar (100 g)

1/2

cup

water (4 fl oz.)

1 tsp

lemon juice (optional)
---
Instructions
Prep Pans. Grease 3 x 8-inch round baking pans and line with parchment paper. Dust evenly with a thin coat of flour. Set aside. Preheat oven to 325°F.
Mix Ingredients. In the bowl of a stand mixer with paddle attachment (or hand mixer), beat the oil, butter, and sugar together on high until pale white and light, 4-5 mins. Add eggs and vanilla and beat on high for 2 minutes until pale in color. With the mixer on low, add sifted flour, baking powder, baking soda, and salt in 2 or 3 batches until the mixture barely comes together. Don't overmix. Pour in sour cream, milk, zest, and lemon juice, then use a whisk to mix by hand until the batter is evenly mixed. Be careful not to overmix. Pour batter evenly among the 3 prepped baking pans (I use a digital scale for this).
Bake. Bake the cakes for 23-26 minutes or until a toothpick comes out of the center clean. When fully baked, carefully flip the cakes upside down on a cooling rack and pull off the parchment paper to allow steam to escape. Cool completely before icing (or tightly wrap the cakes once cool and refrigerate overnight for assembling the next day).
Make Simple Syrup. Dissolve sugar in warm water. Add lemon juice and set aside.
Make Chantilly Cream. In a large mixing bowl with whisk attachment (or hand mixer), whip the heavy cream on high until it creates soft peaks. Add pudding mix and vanilla extract and whip just until it creates stiff peaks. Scoop whipped cream into a separate bowl to set aside. In the same mixing bowl with paddle attachment, beat together the cream cheese, mascarpone, and butter on high speed until light in color and smooth, ~3 minutes. Add vanilla extract, lemon juice, and zest. Then add confectioner's sugar in 2-3 batches with the mixer on low speed at first. Once all the sugar is in, increase the speed to medium-high and beat until fully combined, 1-2 minutes. Using a silicone spatula or large spoon, scoop whipped cream into the cream cheese mixture, and fold together until fully incorporated. Folding ensures we don't knock out all the air in the whipped cream. If making ahead, refrigerate cream overnight, and when you're ready for it, let it rest at room temp for 30 minutes to loosen up.
Assemble. Slice off the tops of each cake layer with a serrated knife so they are flat. On your cake stand, place your first layer in the center upside-down. Use a brush to apply the simple syrup on the surface of the cake. No need to douse it, just brush the entire surface area – you might not use all of the syrup. Scoop about a cup of the chantilly cream onto the cake layer and cover evenly. Repeat for the next 2 layers. Cover the sides with a thin layer of icing to catch all of the crumbs (called the crumb coat). Refrigerate or freeze the cake plus the rest of the cream for 30 minutes to set. After cooled, use the rest of the cream to give the cake a final coat, and pipe any decorations you want! I like to pipe some cream on top with a Wilton 1M star tip, lemon slices, and greenery (from my backyard).
Slice + Serve. Cool the cake for another 30 minutes before slicing to help it hold its shape. Refrigerate the cake for up to 3 days to enjoy or freeze leftover slices to enjoy another time!
---
Notes
Make-Ahead Instructions. You can absolutely make the cake and chantilly cream the day before! Wrap each cake layer tightly and refrigerate overnight along with the chantilly cream. Before frosting, let the chantilly cream sit out at room temp for 30 mins to loosen up so that it's easier to frost. Frosted slices or unfrosted layers can be frozen up to 3 months – defrost overnight in the fridge or at room temp to enjoy again. 
2 x 8″ round pans to make 4-layer Cake. This recipe can also be baked in 2 round pans instead of 3. Just use the toothpick test to see when the cakes are finished baking. Slice each cake in half to assemble 4 layers. I don't recommend making a 2-layer cake from this because there will be less simple syrup and icing that keeps the layers moist.
9 x 13″ Sheet Cake – Lemon Chantilly Cream Sheet Cake.

This batter can be baked in a 9 x 13″ pan for a super simple sheet cake! Use the toothpick test to gauge how long to bake it for since it will take longer than 25 minutes. You'll want to halve the chantilly cream recipe since there won't be layers to frost.

3 dozen Cupcakes – Lemon Chantilly Cream Cupcakes.

If you prefer the size and ease of cupcakes, this recipe can be baked into 3 dozen cupcakes. Fill the cupcake liners 2/3 full and bake at 350

°F for 19-22 minutes until a toothpick comes out clean. You can also halve this recipe if you want fewer cupcakes.
Keywords: chantilly cake, easter recipes, lemon cake
Inspired by the Whole Foods Berry Chantilly Cake
The Whole Foods Berry Chantilly Cake was invented in my hometown New Orleans on Magazine Street. The baker behind this wildly popular cake is now the owner of Bywater Bakery on Dauphine Street, Chaya Conrad. It was such a hit that it quickly rolled out into Whole Foods locations nationwide.

A Berry Chantilly Cake as we know it today is made of yellow cake layers, soaked in simple syrup, and covered in a whipped mascarpone cream. This is how I make the lemon chantilly recipe provided, except with a lemon cake instead!
Chantilly vs. Gentilly
You may have heard of a "Gentilly cake" as well, and to no surprise, they are related! After the successful launch of the Berry Chantilly at Whole Foods, Conrad became bakery director at Rouses Markets where she re-created the cake and called it a Berry Gentilly Lace Cake.
What's the difference between a Chantilly and Gentilly cake? The answer is in the cake itself. A Gentillly cake is a white almond cake instead of a yellow cake like Whole Foods uses. Almond is an iconic New Orleans flavor, so the evolution of this cake was an instant hit!
Should chantilly cake be refrigerated?
Yes, chantilly cake should be refrigerated because of the fresh cream in the frosting and berries. Store in the fridge, covered for up to 3 days.

Recipes You'll Love
For more baking recipes, check out the breads or desserts categories for other recipes!