This Neapolitan pizza dough recipe creates a chewy and tender crust with that signature bubbly char! After falling in love with Neapolitan pizzas on two different trips through Europe, I committed to developing an at-home Neapolitan pizza dough recipe. Rounds of testing later, this recipe had the perfect flour to water composition. This is my best homemade Neapolitan pizza dough recipe!
What is Neapolitan pizza?
Neapolitan-style pizzas have a distinct bubbly charred crust and a thin base layer that's chewy and soft. The common topping of choice for Neapolitans is Pizza Margherita which includes high-quality tomato sauce, mozzarella, and basil leaves.
Neapolitan pizza origin
Neapolitan pizza was born in Naples, Italy where the traditional recipe has protected status. To be able to call a pizza a traditional Neapolitan, it must follow a precise dough method and ingredient types – those precise ingredients are Mozzarella di Bufala Campana and San Marzano or Pomodorino del Piennolo tomato sauce. That's why many recipes and restaurants skip the complication and call their pizzas "Neapolitan-style" rather than traditional "Neapolitan" pizzas.
Neapolitan Pizza Dough Ingredients
Neapolitan-style pizza dough is a lean dough, meaning there are no enriched ingredients like oil, milk, or eggs. To make Neapolitan-style pizza dough, you'll need these ingredients:
Type 00 Wheat Flour
Water
Yeast
Salt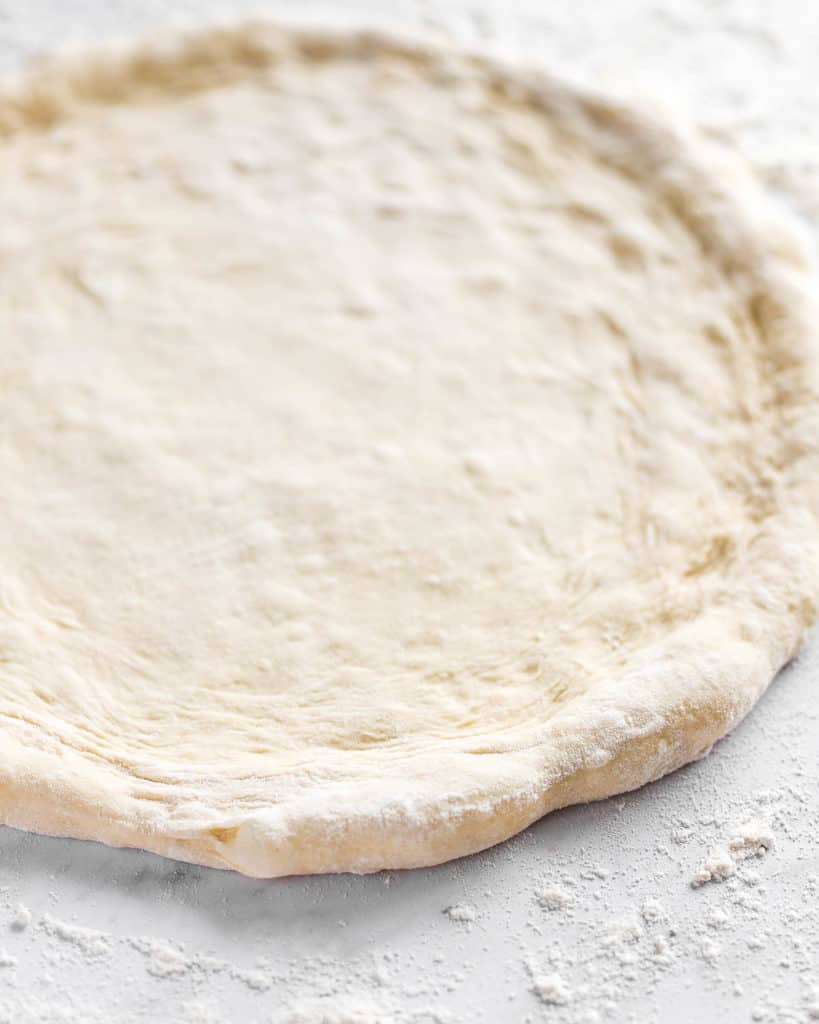 What flour to use for Neapolitan-style pizza dough?
A Neapolitan's light and chewy structure comes from high-protein flour, most commonly Type 00 or bread flour. This recipe uses Type 00 for best results. The protein gives the dough the extra elasticity needed to be able to stretch out into an ultra-thin base. 
Print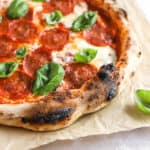 Neapolitan Pizza Dough
Author:

Maria Do

Prep Time:

15 minutes

Rest Time:

17 hours

Cook Time:

60-90 seconds

Total Time:

1 1/2 days

Yield:

4

pizza dough balls

1

x
---
Description
Authentic Neapolitan-style pizza dough recipe with the signature bubbly char. This overnight dough is made with Type 00 flour, water, salt, and yeast and can be refrigerated for up to 5 days. 
Example Schedule
Mix dough at 8pm the evening before.
The next morning, divide dough at 8am. 
Rest for 2-3 hours, then bake pizzas at 11am. 
---
665

g

00 flour* (~4 1/2 cups packed and leveled)

450

g

cool water (73º F)

18

g

kosher salt (2 1/2 tbsp)

1/8 tsp

instant yeast
---
Instructions
The night before – mix dough to rest overnight. 
Add 665 g type 00 flour, 450 g cool water, ⅛ tsp yeast, and 18g salt to a large bowl. Use a spoon to stir until loosely combined, then with a wet hand, continue to mix, pinching the dough between your thumb and index finger to ensure even distribution. The final dough is not very pretty or smooth but at the very least combined. Cover and rest for 30 minutes.


After a 30 minute rest, apply a strength-building fold – with wet hands, tuck your fingers under one side of the dough, pull the dough up, then fold it back over itself. Repeat this motion until you go around the entire perimeter, about 4-6 pulls. Cover and rest for 30 minutes.


Apply a strength-building fold again, then invert the dough so the seam is at the bottom. Cover and rest at room temperature for 12 hours overnight for a slow rise. This rest is essential for a Neapolitan pizza's flavor and elastic texture.


The next morning – divide dough to cook pizzas.

Generously flour a work surface and pour dough on top. Flour the top of the dough, then cut into 4 even segments, each weighing about 275g. Wrap each piece into a ball by pulling the edges up and over itself. Pinch seams shut. Then flip seam-side-down and roll into a ball. 


Place each dough ball into an oiled container such as pyrex, and cover. Refrigerate and wait a minimum of 2 hours to 5 days to make pizza with the dough.


When ready to make pizza, remove dough from fridge 2 hours before cooking time to allow the dough to come to room temperature.

Generously flour your work surface and gently invert a dough ball on the work surface to avoid knocking out all the air. Flour the top of the dough. Trying not to de-gas the edges, press into the center of the ball and incrementally stretch outward to create a thin base layer and a defined crust. Continue pressing and stretching until you've got about 8-10 inches in diameter. Pick up the dough and hang the edge of the dough on your closed fists as you stretch the base layer even further, rotating the dough as you go until you have a 12-inch pizza crust.


Place dough on a floured pizza peel and top with your favorite toppings such as the ones on Pizza Margherita – tomato sauce, mozzarella slices, and basil leaves. 

Slide onto a preheated pizza oven* with a stone for 60-90 seconds, turning the pizza every 20 seconds. Or cook in a preheated conventional oven set at the highest heat level possible (most often 500º F) on top of a pizza stone for 6-8 minutes.
---
Notes
*00 flour – Type 00 flour is what is used in authentic Neapolitan pizzas because of its high protein content that gives the dough its elasticity. I use King Arthur's 00 Pizza Flour (affiliate link) because of the quality. 
*Pizza oven – this pizza is best baked in a hot pizza oven. I have an Ooni Koda 12″ Pizza Oven (affiliate link) that I purchased second-hand from an online marketplace. I absolutely love it for Neapolitan pizzas and also for grilling steaks, fish, or veggies. The first pizza you make in this oven is never the prettiest, so don't be discouraged if it burns or is misshaped. That's why this recipe makes 4 dough balls to give you a few tries!
*Oven baking instructions – Preheat your oven and a pizza stone to its highest setting (usually 500º F) for at least 30 minutes. When preheated, slide your pizza on the stone and bake for 6-8 minutes or until the crust puffs up evenly across the pizza. Broil for a final 1-2 minutes while turning the pizza every 30 seconds to get an even char. 
Storing and Freezing – You can make the pizza dough up to 5 days in advance, keeping the dough refrigerated in their oiled containers.
What is the difference between Margherita and Neapolitan pizza?
Neapolitan pizza is a distinct type of pizza with a thin and chewy crust and many different toppings. Of these toppings, Margherita is the most well-known combination. Margherita pizzas consist of three ingredients – tomato sauce, mozzarella, and fresh basil.
What is the difference between Neapolitan and New York-style pizza dough?
Both Neapolitan and New York-style pizzas are thin, but their dough structures have distinct qualities.
While Neapolitan pizza dough is extremely thin at the base creating the signature floppy slice, New York-style pizza dough has a stronger base structure and does not flop when picked up. A slice of New York pizza has enough elasticity to create the signature fold down the center.
Neapolitan-style pizza crust also puffs up to create dramatic airy pockets that char quickly. New York-style pizza crust is much shorter in height and less dramatic compared to the rest of the slice.