These strawberry cupcakes get their 100% natural strawberry flavor from…… drumroll, please…. FRESH STRAWBERRIES! ???????????? Incorporating fresh strawberry flavor into cake batter is no easy task, but this recipe accomplishes that and then some :). No more overly wet batter, muted flavor, or dull strawberry color!
This post contains affiliate links.
After many strawberry cake recipes and intense Googling, I found Sally's Baking Addiction to be incredibly helpful. She really did her due diligence on strawberry cake and taught me two sound solutions for achieving natural strawberry flavor without sacrificing texture: (1) reduced strawberry puree and (2) freeze-dried strawberries! This recipe is inspired by hers. 🙂
Reduced Strawberry Puree (for the cupcake batter)
Strawberries have a high moisture content and would add too much liquid to the delicate cake batter. The trick to adding fresh strawberries without throwing off the moisture balance is to reduce the strawberries! Simmering the moisture out of the strawberries will also make an extra concentrated flavor. If the strawberries are not reduced, the cake will not taste like strawberries because the flavor will be too dispersed.
If you have the prep time, reduce the strawberries the night before. This allows the puree to cool off completely before getting added to the batter!
The strawberry puree also gives the cupcake batter a beautifully natural pink tint. With the strawberry puree alone, the cupcakes will bake into a slightly muted pink color, but if you'd like a more vibrant pink cupcake, add some red gel food coloring to the batter.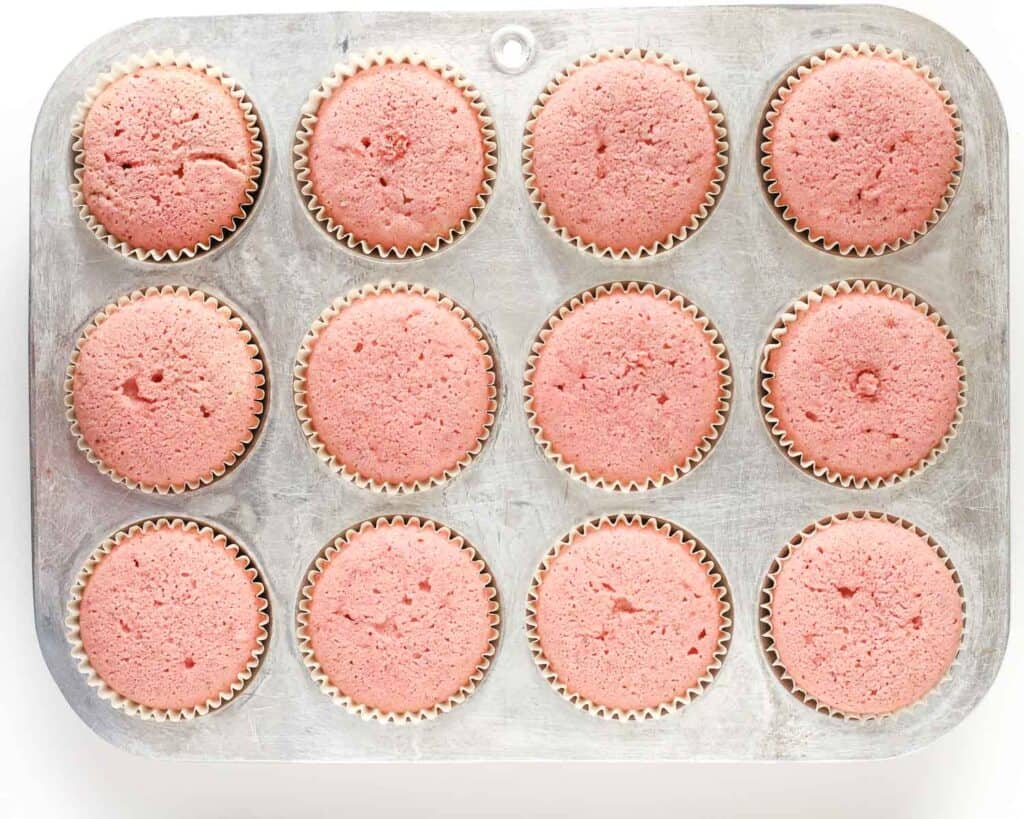 Freeze-Dried Strawberries (for the buttercream)
So why no strawberry puree or even fresh strawberries for the buttercream? Buttercream does not do so well with extra moisture – it will curdle and refuse to come together unless you add more dry ingredients. So to avoid moisture altogether, the solution is to simply replace some of the dry confectioner's sugar in the buttercream with powdered freeze-dried strawberries!
Note, don't use freeze-dried strawberries to replace the reduced strawberry puree in the cupcake batter. It does not bake the same at all, so your cupcakes won't turn out their best!
Where do you buy freeze-dried strawberries?
Freeze-dried strawberries are more accessible than you might think. They're readily available at major grocery stores like Target, Whole Foods, and Trader Joe's in the dried fruit aisle. I usually buy mine from Target and get the Good & Gather brand. They're also available on Amazon.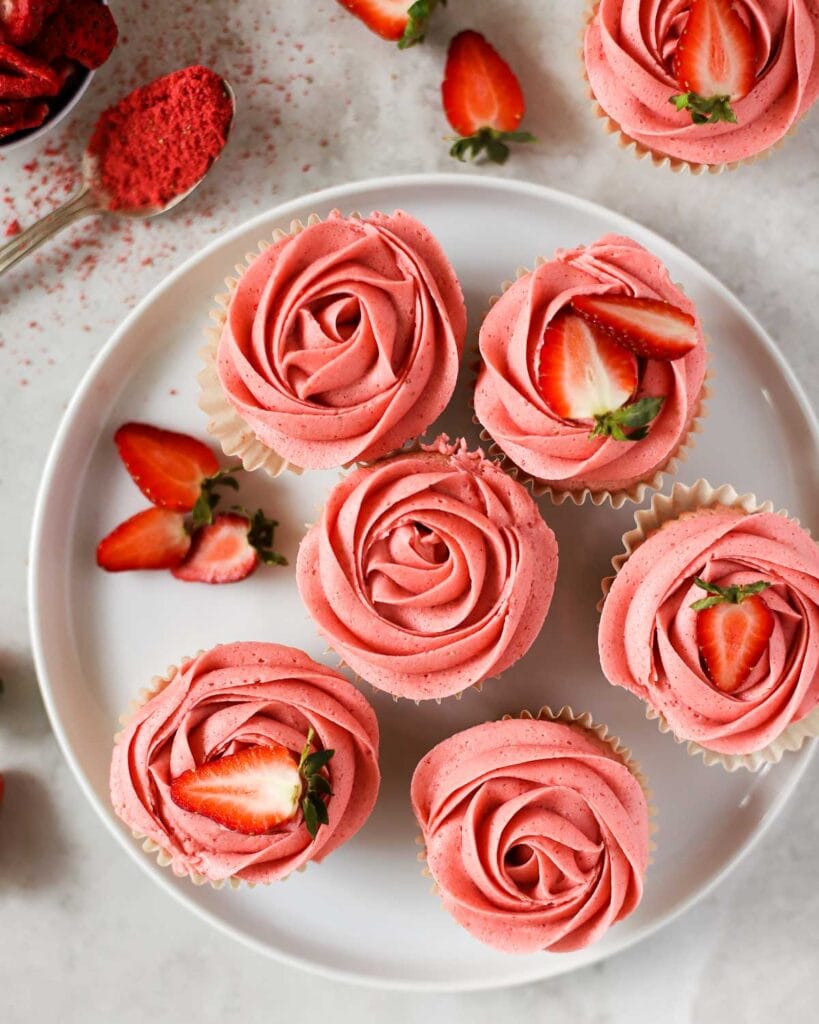 How to make strawberry cupcakes
The ingredients in this cake are carefully crafted to make just the right balance of texture and flavor. If you have a scale, I cannot recommend enough to weigh your ingredients so they are just right! These are the stars that make this tasty cupcake possible:
Cake Flour: super fine flour makes for a light and fluffy texture
Egg Whites: adds structure without the weight of the yolks
Sour Cream: adds moisture and richness
Milk: thins out the batter
Reduced Strawberry Puree: adds natural strawberry flavor with minimal moisture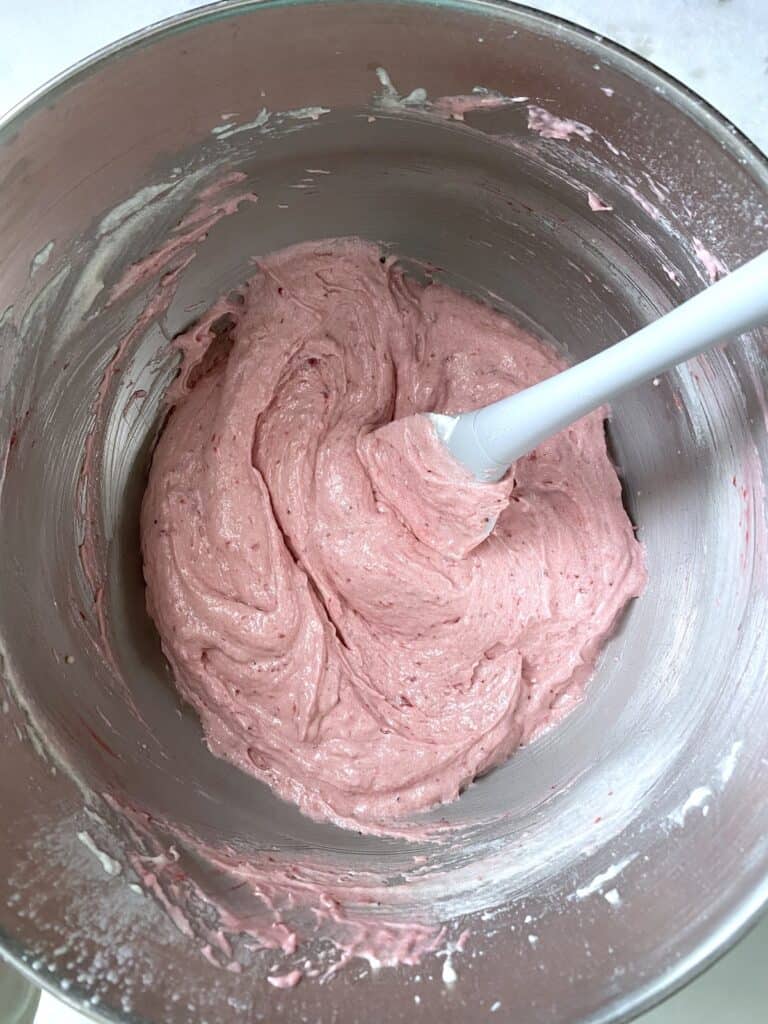 The batter will be moderately thick due to the air we beat into the egg whites and the delicate cake flour. The color will be a beautiful pastel, slightly muted pink. If you'd like a more vibrant pink, add a few drops of red gel food coloring (I added some in mine).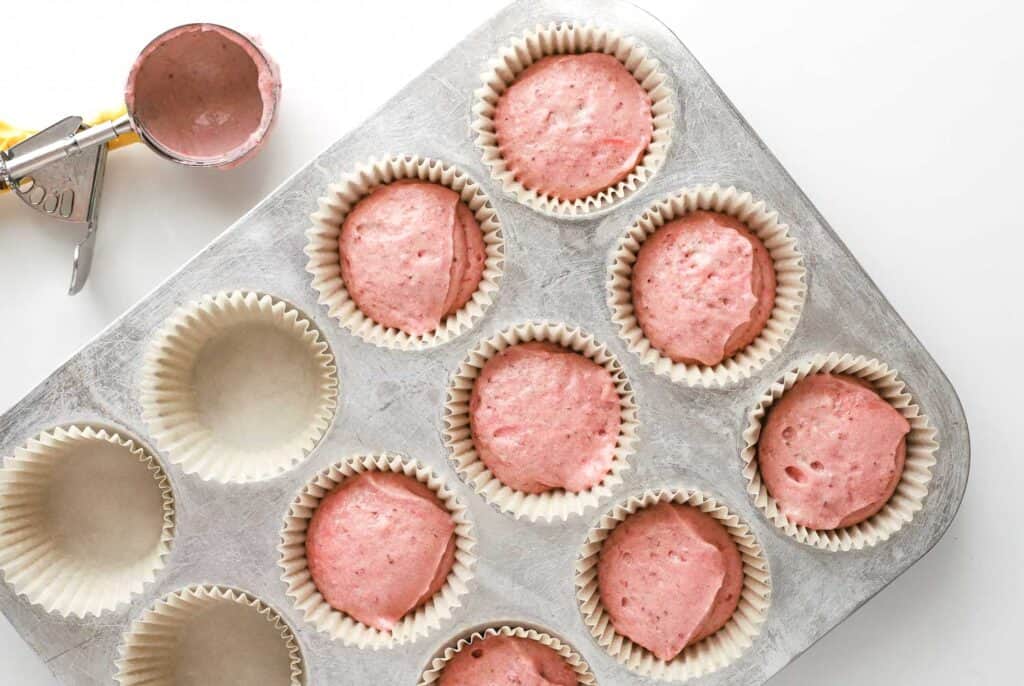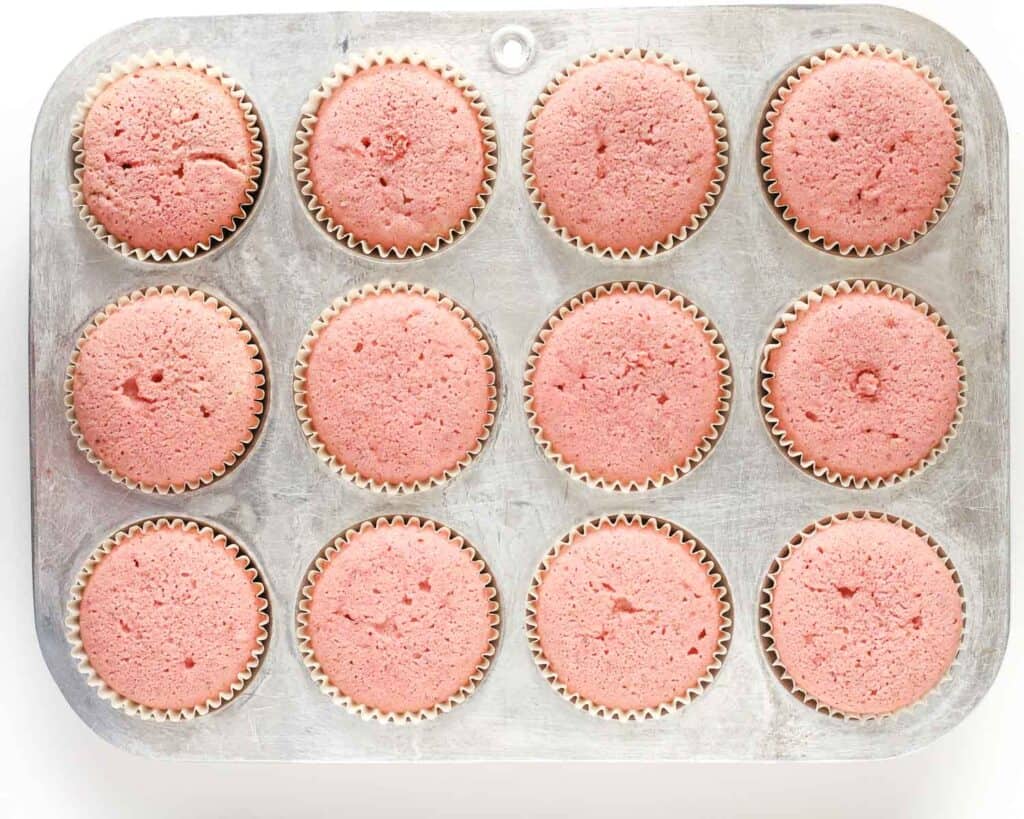 Additionally, there are a few process details that you should know for best results:
All ingredients should be at room temp. When all your ingredients are at room temp, you give them a better chance of combining with the other ingredients well. If you have to quickly bring your items to room temp, here are some tricks I use! Add cold eggs to a bowl of hot water. Put sour cream and milk in bags and submerge in warm water. Cut cold butter into 1-inch chunks and microwave for 15 seconds.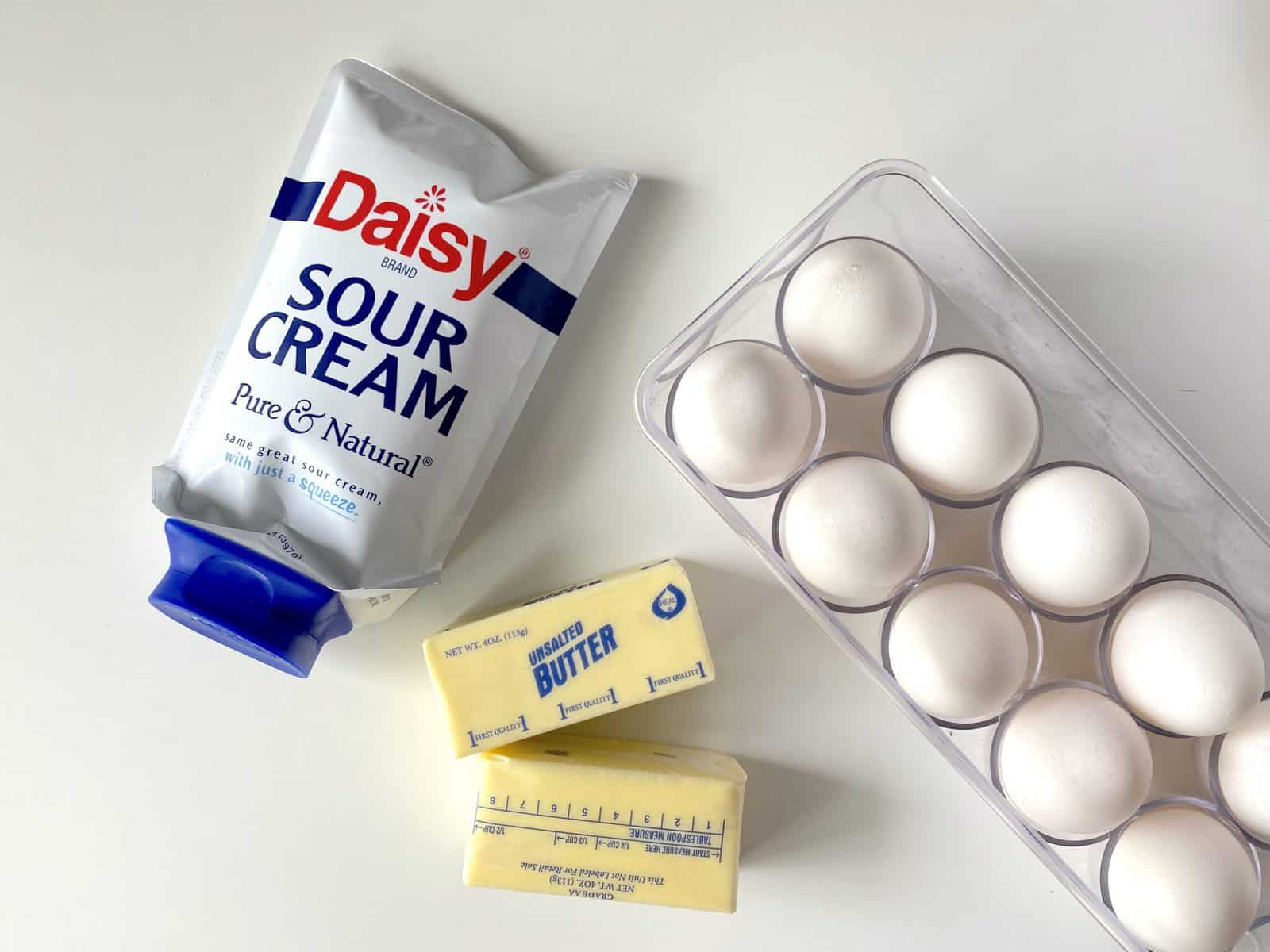 Measure ingredients by weight. To ensure consistency and accuracy, the best way to make baking recipes is to measure ingredients using a digital scale! So that's why my baking recipes are written by weight whenever possible. If you absolutely need to convert to volume, I suggest sticking to the King Arthur weight chart. This is what I use universally to give you my volumetric estimates!
Don't overmix. As with any other light cake, there's a danger in overmixing once the flour is put in. That's why the recipe encourages that you mix by hand in the final stage.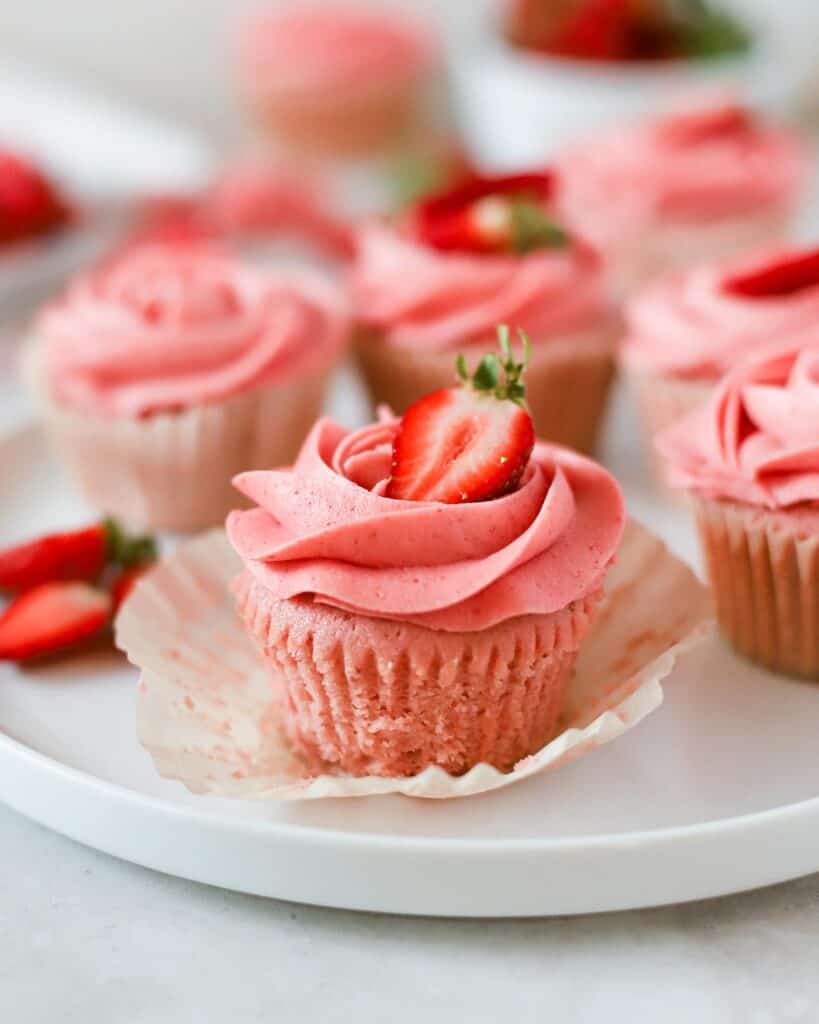 Print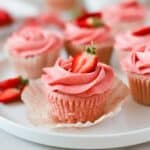 Fresh Strawberry Cupcakes with Strawberry Buttercream
Author:

Maria Do

Prep Time:

45 minutes

Cook Time:

15 minutes

Total Time:

1 hour

Yield:

14

–

16

cupcakes

1

x
---
Description
Fresh strawberry puree flavors this lightly sweet cupcake with natural strawberry flavor! It's paired with a strawberry buttercream that's also naturally flavored with freeze-dried strawberries. 
---
Strawberry Cupcake Batter
207 g

cake flour (~

1 3/4 cup

)

3

egg whites, room temperature

1

stick unsalted butter, room temperature (

115 g

or

1/2 cup

)

200 g

granulated sugar (~

1 cup

)

1/4 cup

reduced strawberry puree*(see notes), room temperature

60 g

sour cream (~

1/4 cup

)

80

ml whole milk (~

1/3 cup

)

1 1/2 tsp

vanilla extract

1 tsp

baking powder

1/4 tsp

baking soda

1/4 tsp

salt

Optional:

1-2 drops of red gel food coloring*

Optional

: extra strawberries for topping 
Strawberry Buttercream
2

sticks unsalted butter, room temperature (

235 g

or

1 cup

)

480 g

confectioner's sugar (~

4 cups

)

25 g

freeze-dried strawberries, pulsed into a powder* (see notes)

1/4 cup

whole milk

1 tsp

vanilla extract
pinch of salt to taste
---
Instructions
Prep. Preheat the oven to 350º F. Line a cupcake pan with parchment liners – this recipe makes about 14-16 cupcakes. 
Mix Batter. In the bowl of a stand mixer, beat together the room temp butter and sugar on medium-high speed until fully incorporated, ~1 minute. Scrape the sides of the bowl, then add the room temp egg whites. Beat until the mixture is light and pale white in color, ~2-3 minutes. Add the sour cream and vanilla, and mix until just combined. Scrape the sides of the bowl. Sift in the cake flour, baking powder, baking soda, and salt. Mix on low speed until barely combined to avoid over-mixing at this stage. Pour in the milk and mix on low speed until combined. Lastly, add the reduced strawberry puree and red food coloring (if using), then stir by hand until evenly mixed. Fill the cupcake liners 2/3 of the way full with batter (each is approximately 1/4 cup of batter). 
Bake. Bake the cupcakes for 13-15 minutes or until a toothpick comes out of the centers clean. Allow the cupcakes to cool completely before frosting. 
Make frosting. In the bowl of a stand mixer with paddle attachment, beat the butter on high speed until light and smooth, ~1 minute. Add the confectioner's sugar, milk, vanilla, and salt. Beat on low at first to prevent sugar from flying everywhere. Then increase to medium-high until smooth, ~1 minute. Add the freeze-dried strawberry powder and mix one last time on medium speed until evenly mixed. Store at room temp until ready to frost the cupcakes! 
Assemble. Frost each cupcake with buttercream frosting! I used the Wilton 1M rose tip to decorate the cupcakes that are photographed. Top with a fresh strawberry half, if desired. Store the cupcakes in an airtight container at room temp for up to 3 days or in the fridge for up to a week. To freeze extras, place un-frosted cupcakes in a zip-top bag and freeze for up to 1 month. Defrost frozen cupcakes in the refrigerator overnight.
---
Notes
*Reduced Strawberry Puree: to add natural strawberry flavor, this recipe requires cooked-down strawberries for best results! Do not add fresh strawberry puree as it has too much moisture and will throw off the proportions of the cupcakes. To reduce strawberries, blend 1/2 cup of clean and chopped strawberries using a blender or immersion blender until it's a liquid consistency. Bring the puree to a boil, then reduce the heat to low and simmer until the strawberry puree is thick, almost like pudding. This takes at least 25 minutes. Remove from heat and allow the strawberry puree to cool off before adding to the cake batter. You can speed this up by putting it in the fridge, but I like to make this the day before. 
*Pulsed Freeze-Dried Strawberries: Add the freeze-dried strawberries to a food processor or spice grinder and pulse until it forms a powder. It's okay if there are a few lumps but it should be mostly powder. 
*Red Gel Food Coloring. I use Wilton red icing gel which is more concentrated than liquid food coloring and will produce a richer red color.
Make-Ahead Instructions: If you can, definitely make the reduced strawberry puree the day before to allow it to cool completely! The buttercream and cupcakes can be made a day ahead also as long as the cupcakes are stored in an airtight container overnight. Frost and decorate the cupcakes the day you plan to eat them! 
Keywords: cupcakes, strawberries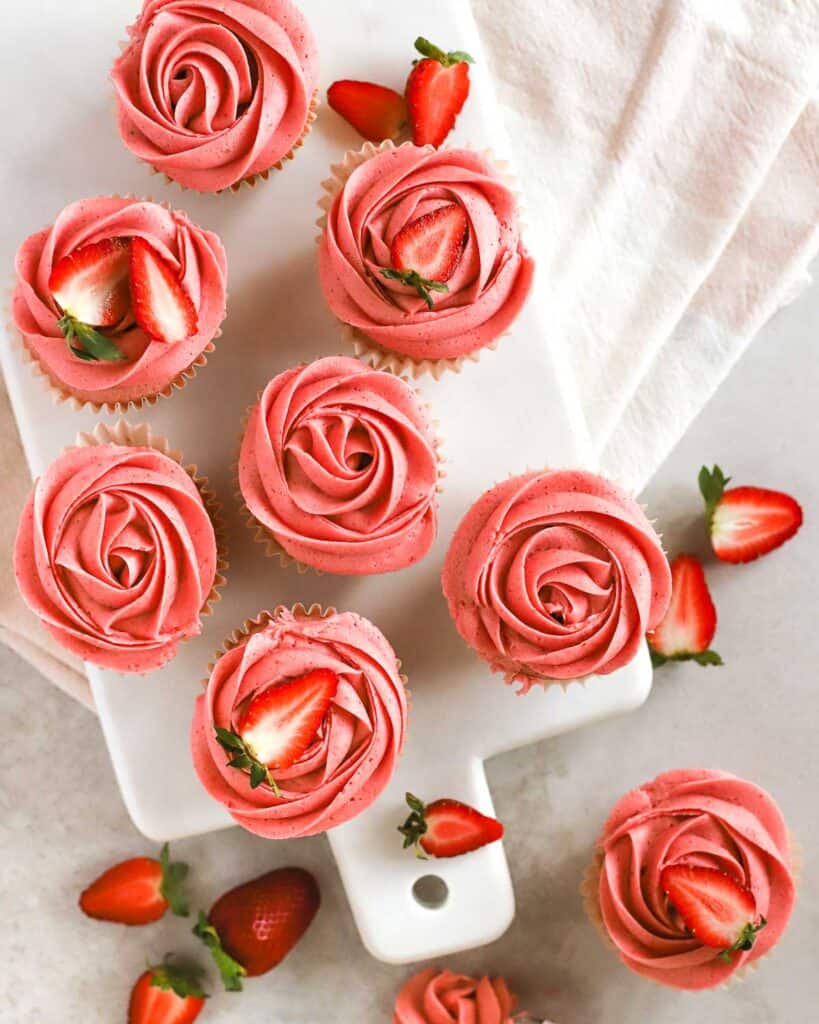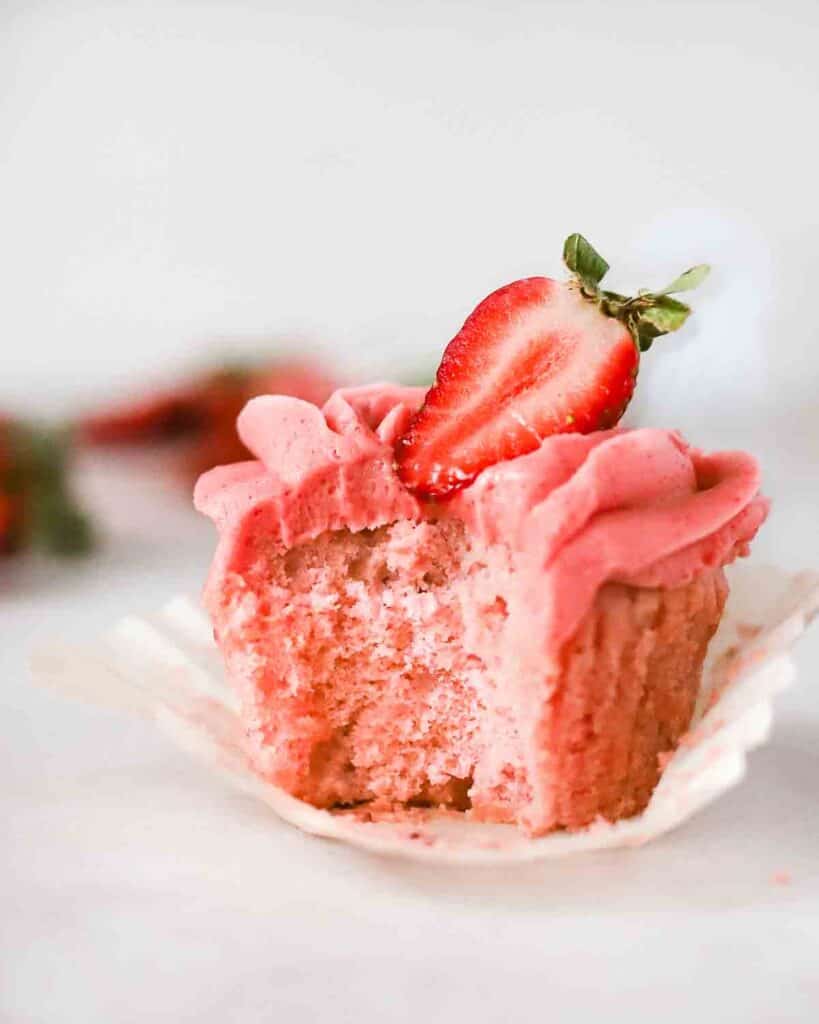 Recipes You'll Love
For more baking recipes, check out the breads or desserts categories!