While peas in carbonara are by no means traditionally Italian, the combination of peas, pancetta, and black pepper are! English peas and fresh pea tendrils add vibrancy and freshness to the creamy, carbonara sauce.
This recipe is a classic example of achieving incredible flavor with very few ingredients. I mean, the only seasonings here are salt and pepper. To do this dish right, we have to use enough of these ingredients and cook them just the right way to bring out their best contributions.
This post contains affiliate links.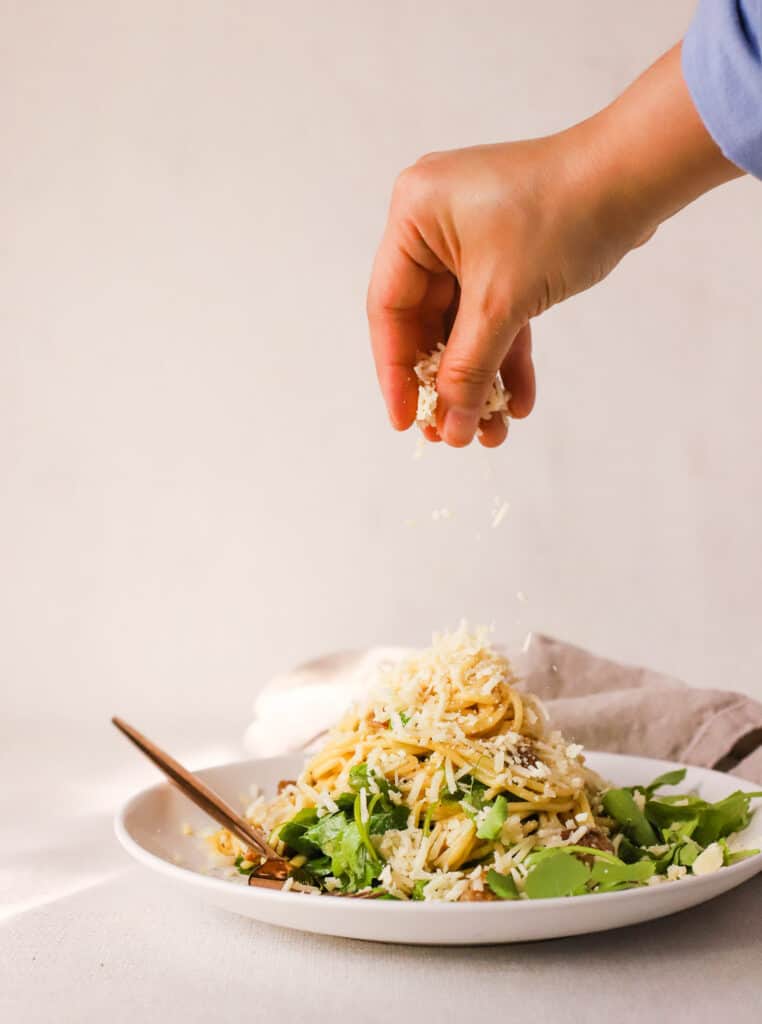 For best results
Here are some tips and tricks to keep in mind as you're putting together this carbonara!
Use freshly cracked pepper. To ensure the classic, peppery carbonara flavor, crack fresh peppercorns and A LOT of it for this recipe! It's also literally the only seasoning besides salt that goes into this dish, so don't skimp. Pre-ground pepper has lost most of its flavor and won't contribute much to this pasta.
Use pasture-raised eggs for that orange yolk. The more orange the yolk, the more beautiful carbonara color you'll get! Pasture-raised eggs are the most nutritious and much better for us, the hens, and the earth. If you can't find any at your local farmer's market, I love to get Vital Farms pasture-raised eggs from Target, Sprouts, or Whole Foods!
Slowly temper the egg to avoid scrambling. Don't rush the tempering step in the recipe. You'll want to slowly drizzle the pancetta fat into the egg to gently warm it before it goes into the hot skillet. If your egg scrambles, you'll have to start over, and that's a sad sight!
Quickly blanch the peas. It's easy to be tempted into overcooking the English peas, but truthfully, the peas don't need much cooking at all. In fact, they just take a quick 1-minute bath in the pasta water. This helps keep the structural integrity of the peas and helps you avoid the dull-green mushy peas you see on a cafeteria lunch plate.
Soaks scallions in water – to prevent the scallions from overthrowing the rich carbonara flavor, I recommend soaking the cut scallions in water to reduce their punch.
Print
Pasta Carbonara with English Peas and Pea Tendrils
Author:

Maria Do

Cook Time:

40 minutes

Total Time:

40 minutes

Yield:

3

to

4

servings

1

x

Category:

Dinner, Main Course

Cuisine:

American, Italian
---
Description
Adding English peas to carbonara are by no means classic Italian, but the combination of pancetta, peas and black pepper is. This elevated carbonara is swirled with the classic ingredients – pancetta, pecorino romano, parmesan, egg – plus the deliciously vibrant English peas and tendrils.
---
8

oz

dried spaghetti, fettuccine or linguine

4

oz

pancetta (diced into 1/2″ pieces)

1/2

cup

parmesan (grated, plus more for garnishing)

1/2

cup

pecorino romano (grated)

1

egg, preferably pasture-raised for an orange yolk (bea

ten

with a fork in a bowl)

8

oz

English peas (frozen or fresh)

1

handful pea tendrils (aka shoots) (plus more for garnishing )

3

scallions (thinly sliced on an angle, soaked in water)
kosher salt (to taste)

1 tsp

freshly cracked black pepper (to taste)
extra virgin olive oil
---
Instructions
Cook Pasta + Peas. Drain. Cook pasta per package instructions in a large pot of water, salted until it tastes like the sea. About 1 minute before the pasta is finished, add the peas to quickly blanch them. Reserve 1 cup of the pasta water, then drain the pasta and peas.
Cook Pancetta. In a large skillet or Dutch oven, add a healthy glug of olive oil and pancetta. Cook on medium heat until the pancetta is lightly browned, about 9-12 minutes. Season generously with black pepper (at least 1/2 tsp). Cut the heat, then pour in 1/2 cup of pasta water and stir.
Temper the Egg. In the bowl with the egg, slowly pour in some of the pancetta fat and pasta water mixture while you stir to temper the egg (gently warming the egg to prevent scrambling). Pour the tempered egg mixture into the large skillet and stir to combine.
Putting the Pasta Together. Add the parmesan, pecorino, scallions, and 1/2 tsp of kosher salt to the skillet. Stir to combine and pour in about 1/2 cup of the pasta water until creamy, ~1 minute. Add the cooked pasta, peas, and pea tendrils. Toss to coat the pasta in the sauce. Season to taste with more salt and black pepper as desired. Garnish with extra parmesan and pea tendrils. Serve immediately – this dish does not wait!
---
Keywords: carbonara, pasta
Recipes You'll Love