These Vietnamese meat pies are the perfect savory snack and wildly simple to make! The ingredients are not too hard to come by and generally affordable!
I used to buy 5 or 6 of these from my local Vietnamese-French bakery, Dong Phuong in New Orleans, and eat them for lunch over a few days. Now, I have the option of enjoying them at home!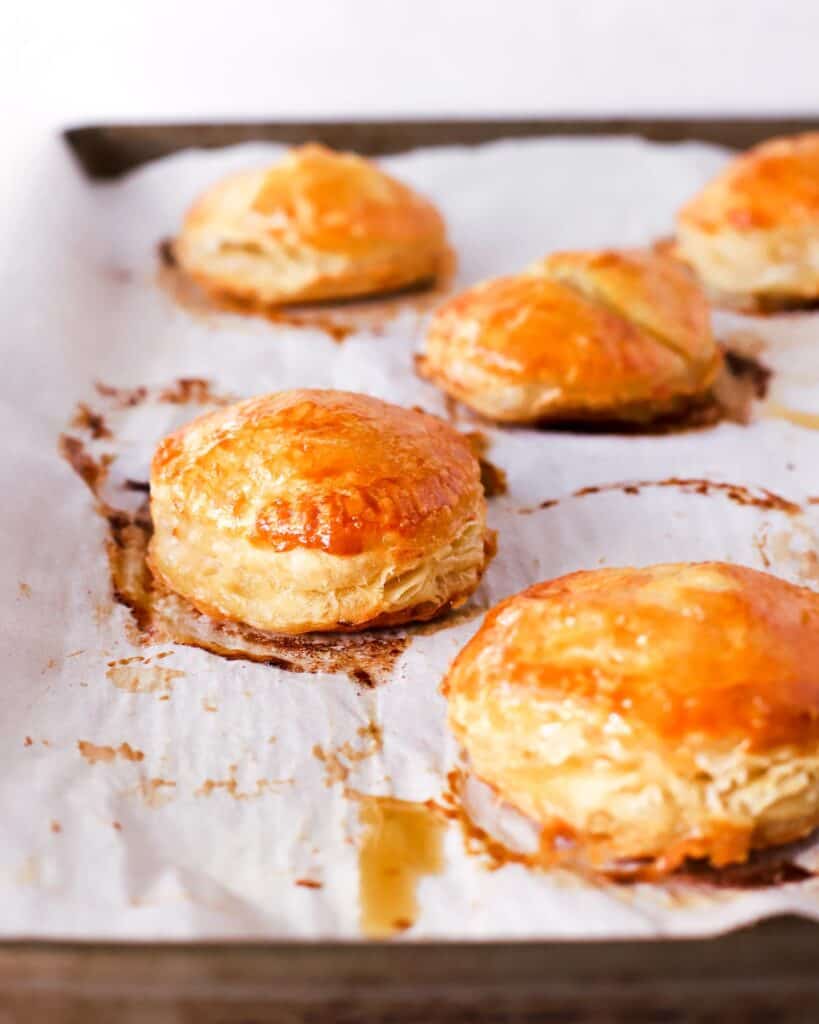 This post contains affiliate links.

Origins of Pâté Chaud
This meat pie is a direct result of French colonialism in Vietnam. Contemporary Vietnamese foods like this pâté chaud often combine the classic flavors of Vietnam with pastry and bread techniques from the French.
Pâté chaud literally translates in French to hot pie. The traditional recipe features a pork and mushroom filling (classic Vietnamese combination) with flaky puff pastry (classic French). There are many other variations of this pie that can be made like a bbq pork filling, chicken, and even beef. For me, this pork and wood ear mushroom filling is most nostalgic!
Pâté Chaud Ingredients
Puff pastry sheets – this recipe calls for two sheets of storebought puff pastry. I normally get Pepperidge Farm sheets because they're the only ones available at my grocery store. Defrost the sheets on the counter for 1-2 hours before you're ready to use them or defrost them overnight in the fridge.
Ground pork – the fat in the pork is important for retaining moisture in the dough. If you swap with another protein, make sure it has an equivalent fat content, or add fat or coagulated broth to the filling! (I've tested this with coagulated chicken bone broth, and that replaced the pork fat well).
Wood ear mushrooms (optional) – wood ear mushrooms add a nice chewy texture to the filling. Wood ear mushrooms can be purchased dried at your local Asian market, but if it's not accessible in your area, you can leave them out.
Onion – dice up white or yellow onion to incorporate into the filling.
Chives or Green Onion – I like to add a green pop of color wherever I can, so herbs are my elevated addition to this classic recipe! Chives or green onion will do the trick.
Fish sauce – it sounds strange to pair pork with fish sauce, but it really is just a classic Vietnamese combination. Fish sauce adds an important layer of umami to the filling. My preferred brands are Red Boat fish sauce or my mom's favorite, Three Crabs.
Egg yolks – an egg yolk wash on top makes that classic glossy finish! They also act as a crucial sealer for the edges of the pastry.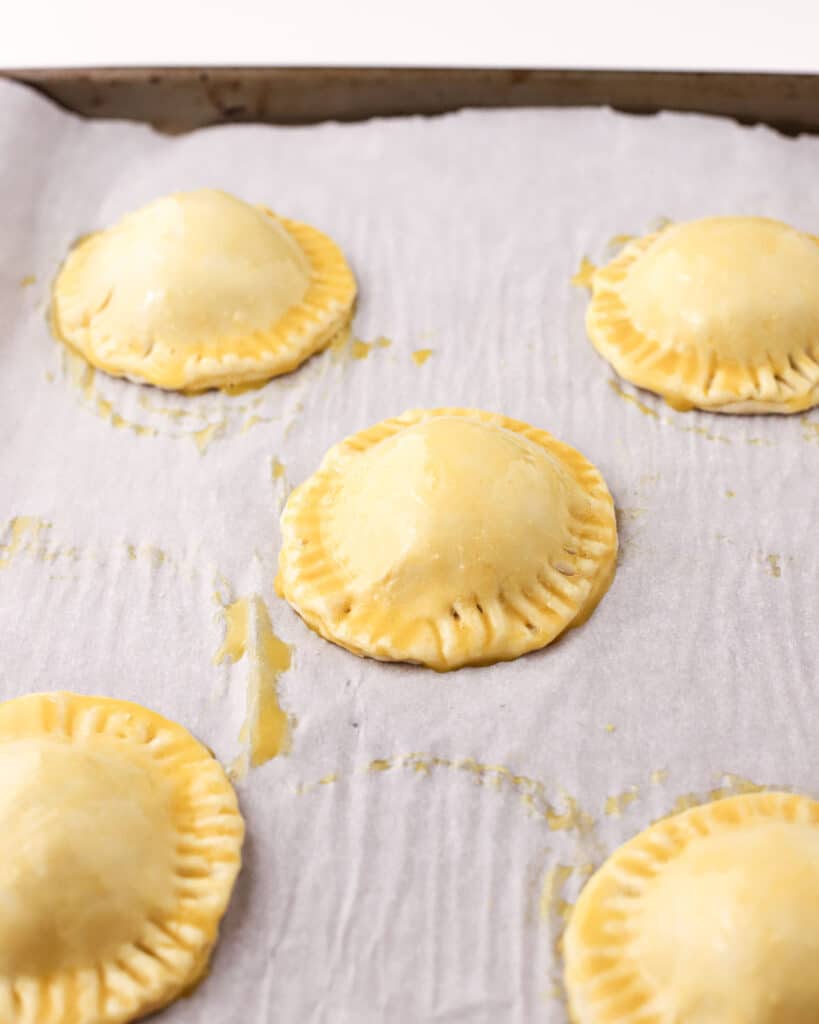 How to Make Pâté Chaud
WIth the help of store-bought puff pastry, the assembly is super simple. Here's a step-by-step visual of how to make homemade pâté chaud.
Recipe Notes for Success
These notes are important for making sure you have the best experience making these pastries with amazing results.
Defrost puff pastry sheets – when you purchase the puff pastry, it will come frozen, so make sure it gets defrosted! You can either do it in the fridge overnight or at room temp until defrosted enough to unfold the sheets without tearing it.
Refrigerate puff pastry circles after cutting – after you cut out the pastry sheet circles, keep them in the fridge until you're ready to stuff them. This will make them easier to handle when you are assembling.
Seal edges with egg wash + fork – we seal the edges in two ways in this recipe: (1) brushing egg wash and (2) pressing down with a fork. This acts as insurance to ensure that the filling doesn't leak and that the pastry gets an even rise!
Print
Pâté Chaud (Bánh Patê Sô) Recipe – Vietnamese Meat Pastries
Prep Time:

2 hours 30 minutes

Total Time:

2 hours 45 minutes

Yield:

9

pastries

1

x

Category:

Appetizer, Dinner, lunch, Main Course

Cuisine:

French, Vietnamese
---
Description
Classic Vietnamese-French meat pie recipe made with puff pastry and a simple pork and mushroom filling. Makes for the perfect savory snack.
---
2

sheets puff pastry (

1

package of Pepperidge farm pastry sheets)

1/2

pound

ground pork

1/2

oz

wood ear mushrooms (boiled and cooled)

1/4

white or yellow onion (diced)

1 tsp

fish sauce

1/2 tsp

black or white pepper

1/2 tsp

salt

1/2 tsp

garlic powder

1 tbsp

chives or green onion (chopped)

2

eggs, yolks and whites separated
---
Instructions
Prep the Puff Pastry. Defrost puff pastry at room temp for 1-2 hours or in the fridge overnight. Unfold each pastry sheet onto a baking sheet lined with parchment paper. Use a 3″ round biscuit or cookie cutter to cut 9 circles out of each sheet (18 circles in total). You can also cut into squares if desired. Remove the pastry scraps, then refrigerate the cut puff pastry while you make the filling.

Make Filling. Add pork, mushrooms, onions, fish sauce, pepper, salt, garlic powder, and chives to a bowl. Mix until fully incorporated. Set aside. filling.

Assemble Pastries. Preheat oven to 400º F. Take the cold pastry rounds out of the fridge. Brush egg whites around the perimeter of half of the pastry rounds. Then use a cookie scoop or spoon to dollop a rounded tablespoon of filling in the center of the pastries with egg wash. To cover, stretch out a second pastry circle without egg whites about 1/2″, then fully cover each pie. Press down the edges so both sheets of pastry are glued together with the egg whites. Use a fork to crimp the edges of the pie to seal the top and bottom pastries. Repeat with the rest of the pies. Brush all of the pies with the egg yolks, including all the sides.
 
Bake. Bake the meat pies for 25-32 minutes or until dark golden brown on top. Serve immediately. To store, refrigerate in an airtight container for up to 3 days and reheat in the oven until pastry is crispy (preferred) or 30-45 seconds in the microwave. 
---
Keywords: banh pate so, meat pie, pate chaud, pate so, Vietnamese recipes
Recipes You'll Love